Description
HYDRATION + ENDURANCE + RECOVERY*

EXCEPTIONAL TASTE
PERFECT MIXABILITY
SUSTAINED ENERGY SOURCE*
ELECTROLYTES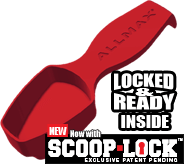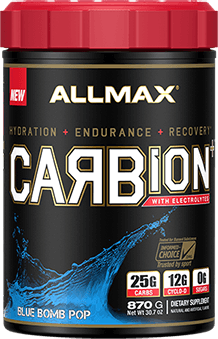 CARBION + HIGH PERFORMANCE TRAINING FUEL
New CARBION+ has taken hydration to a whole new level. Not only is it the best tasting, most refreshing drink you've ever tasted but it will improve your training and deliver better results.* You need carbohydrates to fuel your muscles and delay the onset of fatigue.*
CARBION+'s phased delivery carbohydrates will maintain your blood glucose levels longer so you don't crash and you can keep going longer and harder at a higher level of performance.* When you sweat, you lose electrolytes as well as water.
If your levels of electrolytes drop too far, performance suffers. Increased levels of highly absorbable electrolytes in new CARBION+ will ensure you stay hydrated so you can retain and utilize the fluids you are consuming.* Additionally, the absorption blend in CARBION+ helps to initiate the uptake of blood glucose into cells, meaning more actual fuel in the muscle.*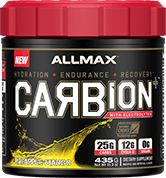 The Next Step
in the
Evolution
of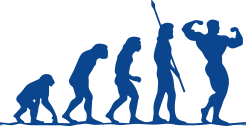 HYDRATION
KEY BENEFITS OF CARBION+
More Refreshing

 

– CARBION+ has been reformulated with a highly soluble carbohydrate blend that mixes easily and results in a clear, refreshing, incredibly delicious drink that will crush your thirst. A perfectly balanced blend of multiple forms of electrolytes has eliminated the salty, metallic taste often associated with high electrolyte levels so each sip leaves you feeling refreshed and your thirst quenched.
Better Hydration

 

– The electrolyte blend has been ramped up with more of the 4 key electrolytes that you need to stay hydrated during intense exercise.* In addition, the source of these electrolytes has been optimized for improved absorption. Utilizing bicarbonate and citrate forms in addition to the more typical chloride forms results in improved absorption as well as improved taste.
Fuels Improved Performance

 

– The Phased Delivery Energy Blend was designed to provide fuel for your entire workout without the energy crash associated with sugar based sports drinks.* Tests performed with high performance athletes during training has confirmed up to 50% improvement in stamina as well as a reduced perception of fatigue.
Faster Recovery

 

– Most athletes understand the importance of protein for recovery but the importance of carbohydrates is not as well recognized.*
Skip carousel
What's in Allmax Nutrition CARBION+
Supplement Facts

Serving Size ½ Scoop (29 g)

Servings Per Container

25

Amount Per Serving

% DV

Calories

100

      

Total Carbohydrates

25 g

9%∆

Sugars

0 g

†

PHASED-DELIVERY ENERGY BLEND*

CYCLO-D™ Highly-Branched Cyclic Dextrin

12 g

†

PER4ORM™ 4-Form Phased Release Dextrin Polysaccharide

12 g

†

AWM2300™ Ultra-High Molecular Weight Waxy Maize

1,000 mg

†

CocoH2™ Concentrated Coconut Water (Cocos nucifera)

400 mg

†

ABSORPTION BLEND*

Prickly Pear Cactus (Opuntia ficus-indica, leaf) extract

108 mg

†

Bitter Melon (Momordica charantia, fruit) extract

56 mg

†

Cinnulin PF® (Cinnamon [Cinnamomum cassia and 15 mg † Cinnamomum burmannii] Bark Extract)

15 mg

†

ELECTROLYTE HYDRATION BLEND*

Sodium (as Sodium Bicarbonate, Sodium Citrate, Sodium Chloride)

190 mg

8%

Potassium (as Potassium Bicarbonate, Potassium Citrate)

100 mg

2%

Magnesium (as Magnesium Citrate, Magnesium Gluconate)

60 mg

14%

Calcium (as Calcium Citrate, Calcium 5-Hydrate)

30 mg

2%

Δ Percent Daily Value based on a 2,000 calorie diet

† Daily Value (DV) not established

Ingredients:

Citric Acid

, Natural & Artificial Flavors

, Sucralose

, Fd&C Yellow #5

ALLERGEN WARNING: Produced in a facility that also handles Milk, Soy, Egg, Tree Nut, Peanuts, Fish & Shellfish products.
Directions For CARBION+: Mix 1/2 scoop CARBION+ with 12 oz of cold water and you're ready to go. Additional water can be added if desired. For 2 Servings (58g = 2 Scoops use 24 oz. (3 cups,710 ml) of cold water.
Warnings: Do not use if you have any pre-existing medical conditions. Do not use if you are pregnant or nursing. Not recommended for persons under 18 years of age. Discontinue use if you experience any adverse reactions. Consult a health care practitioner prior to use if you have diabetes or impared glucose tolerance. Store in a cool, dry location away from direct sunlight. Keep out of reach of children.
Payment & Security
Your payment information is processed securely. We do not store credit card details nor have access to your credit card information.