Description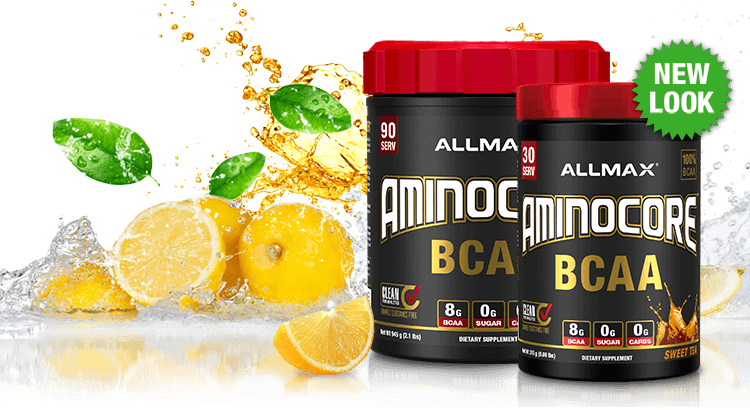 DOMINANT MUSCLE BUILDER
AMINOCORE delivers 8.18g of BCAA in a 9:6:5 ratio clinically proven to provide an increase in activation of muscle growth signals!* The purest, free-form source of BCAA, AMINOCORE has no added fillers or non-BCAA aminos. AMINOCORE's 9:6:5 BCAAs are 100% pure prior to flavoring.
STIMULATES MUSCLE GROWTH*
NO FILLERS, ZERO NON-BCAA AMINOS, SUGAR-FREE
HIGHLY BIOAVAILABLE B-VITAMINS
ABSOLUTELY INCREDIBLE TASTE!
Typical 2:1:1 sources contain impurities resulting in cloudiness, oily foam, sediment, and the worst – a harsh bitter taste! AMINOCORE is the cleanest, purest, best-tasting BCAA supplement money can buy!

THE SCIENCE OF MUSCLE GROWTH
AMINOCORE 9:6:5 BCAA ratio is clinically proven to increase the activation of muscle growth signals. Scientific studies have identified mTor-p70S6K as the trigger directly responsible for extreme muscle growth. Supplementing with BCAA has been shown to activate increased mTor-p70S6K cellular signaling responsible for muscle growth. The result: you build and retain more hard earned lean muscle and maintain a higher metabolism.*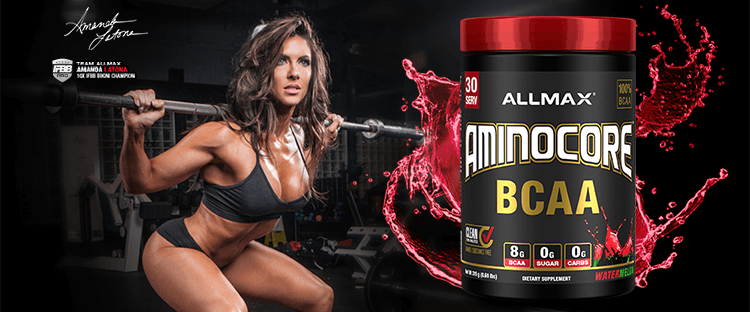 WHY USE BRANCHED CHAIN AMINO ACIDS (BCAA)?
Supplementation is crucial for athletes seeking to build muscle. BCAA are the primary building blocks for muscle growth, reduced muscle breakdown and facilitation of fat loss. Unlike other amino acids, BCAA aminos – leucine, valine and isoleucine – cannot be produced by the body, so must be provided through diet or supplementation. AMINOCORE feeds your muscles during diet and exercise to dramatically decrease muscle loss. Additional B-Vitamins further assists in enhancing metabolic power and improving energy levels.*

BANNED SUBSTANCE FREE
What's in Allmax Nutrition Aminocore BCAA
30 Servings

Fruit Punch

Serving Size: 1 scoop (10.5g)

Servings Per Container:

 

30

Amount Per Serving

% Daily Value

Calories

5

      

Total Carbohydrate

0 g

0%∆

Sugars

0 g

†

Vitamin B3 (as Niacin)

20 mg

100%

Vitamin B6 (as Pyridoxine HCL & Pyridoxal-5'-Phosphate [P5P])

2 mg

100%

Vitamin B9 BioB9™ (as Folic Acid & 5-Methyltetrahydrofolate)

400 mcg

100%

Vitamin B12 (as Methylcobalamin)

6 mcg

100%

AMINOCORE™ BCAAs [9:6:5]

8,180 mg †

L-Leucine [45%]

3,681 mg

      

L-Valine [30%]

2,454 mg

      

L-Isoleucine [25%]

2,045 mg

      

∆ Percent Daily Value based on a 2,000 calorie diet.

† Daily Value not established

Other Ingredients:

Citric Acid

, Malic Acid

, Natural and Artificial Flavors

, Sucralose

, Acesulfame Potassium

, Lecithin (Sunflower)

, FD&C Red No. 40.

Produced in a facility that also handles Soy, Egg, Milk, Tree Nut (coconut), Peanuts, Fish and Shellfish products.
Directions For Aminocore BCAA: To activate protein synthesis and increase muscle recovery*, take 1 scoop of AMINOCORE™ during weight training or any athletic event. On non-training days, AMINOCORE™ can be taken anytime on an empty stomach. Mix 1 scoop (10.5 g) into 17 oz (approx. 500 ml) bottle of water or a tall glass of water (2 cups). Shake or stir well. Take during workouts.
Warnings: Use only as directed. Not recommended for persons under 18 years of age unless prescribed by a healthcare professional. People sensitive to Vitamin B3 (Niacin) may experience flushing of the skin that is generally mild and transient. Do not use if you have any pre-existing medical conditions; if you are chronically ill; if you are pregnant or breastfeeding; taking prescription medication or over-the-counter drugs. Discontinue use if you experience any adverse reaction. Store in a cool, dry place away from direct sunlight. Keep out of reach of children and pets. Do not use if inner seal is broken.
Payment & Security
Your payment information is processed securely. We do not store credit card details nor have access to your credit card information.