Description
Proudly supports first responders & nurses with Bodybuilding.com and ID.me.
Verify Here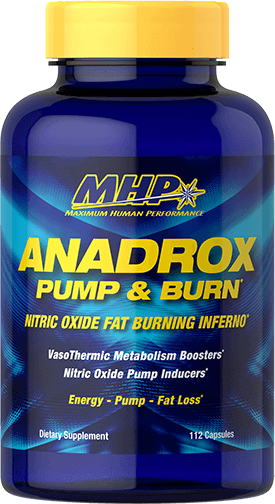 ENERGIZEPUMP&BURN*
Enhances Metabolism, Energy & Muscle Pumps*
Potent Nitric Oxide Boosting Complex*
Powerful Energizing & Fat Burning Matrix*
Features Arginine, L-Citrulline, 7-Keto DHEA, Green Tea & Tumeric
ANADROX
For years satisfied customers have chosen Anadrox to help boost their workouts, by simultaneously supporting intense muscle pumps and fat burning.* Our commitment is to provide quality products driven by science.
Anadrox is a powerful all in one fat burning, energizing and nitric oxide boosting matrix.* This incredible and unique combination will help fuel your workouts, speed your weight loss goals and enhance your muscle pumps at the gym.*
ENERGIZE, PUMP & BURN*
Why spend your money on a nitric oxide product and a fat burner when you can get the best of both in Anadrox? Anadrox combines the power of nitric oxide with a powerful, full spectrum Fat Burning Matrix in one breakthrough formula to simultaneously support muscle growth and pumps, while helping promote weight management.* In addition, Anadrox containes the clinically tested fat-burners AdvantraZ® and 7-Keto DHEA. These and other key ingredients help trigger thermogensis and torch body fat.*
FAT BURNING MATRIX
AdvantraZ® &
 

7-Keto

 

DHEA

Help trigger thermogenesis & burns body fat*
Green Tea & Caffeine
This synergistic combination boosts energy, mood & fat burning*
Arginine &
L-Citrulline
Promotes nitric oxide production & muscle pumps*
#MHPSTRONG
224 Capsules

Serving Size 4 Capsules

Servings Per Container

56

Amount Per Serving

% DV

Vitamin C (as Calcium Ascorbate)

60 mg

67%

Niacin

20 mg

125%

Vitamin B6 (as Pyridoxine HCl)

5 mg

294%

Folate (as Folic Acid)

337 mcg DFE

84%

Vitamin B12 (as Cyanocobalamin)

250 mcg

10,417%

Choline

3.5 mg

1%

Calcium (as Calcium Ascorbate and Dicalcium Phosphate)

10 mg

1%

Zinc (as Zinc Citrate)

2.5 mg

23%

Copper (as Copper Gluconate)

1 mg

111%

Manganese (as Manganese Sulfate)

1 mg

43%

Chromium (as Chromium Polynicotinate)

50 mcg

143%

VasoThermic Pump Inducing Fat Burning Activators: 2772 mg

‡

The Pump: Nitrofolin™ - Nitric Oxide & Cellular Respiration Activators

2,053

mg

      

L-Arginine HCl, Vanadium Amino Acid Chelate (providing 2.5 mg Vanadium), L-Tyrosine, Choline Dihydrogen Citrate, Banaba Leaf Extract (Lagerstroemia Speciosa)(1% Corosolic Acid), N-Acetyl-L-Cysteine, Taurine, L-Citrulline Malate, NADH

The Burn: ThermoZ7™

719

mg

      

Purine Nucleoside & Phosphodiesterase Inhibitors: Guarana seed and, green tea leaf extracts, (providing 45 mg EGCG, and 250 mg caffeine), Norepinephrine, Beta Agonist & Glycerol-3-Phosphate Dehydrogenase Activators: AdvantraZ® Citrus aurantium fruit extract (6% synephrine alkaloids), DL-Phenylalanine, 7-Keto® DHEA (3-acetyl-7-oxo-dehydroepiandrosterone acetate), Bladderwrack kelp, Guggulsterones E and Z, Cyclooxygenase Inhibitors: IsoOxygene™ Hops (Strobile), Turmeric Root Extract, Beta receptor Site Upregulating Factors: Quercetin Dihydrate, Hesperidin (from hesperidin complex), Bioperine® black pepper fruit extract (2 mg)

‡ Daily Value (DV) not established.

Other Ingredients:

Capsule (Gelatin

, Titanium Dioxide

, FD&C Blue #1

, FD&C Yellow #5

, FD&C Red #3

, FD&C Red #40

, FD&C Yellow #6)

, Microcrystalline Cellulose

, Magnesium Stearate

, and Silica.
Directions For Anadrox Pump & Burn, Nitric Oxide Fat Burner: Take 4 capsules, 1-2 times daily, 6-8 hrs. apart; may take with breakfast and/or pre-workout.
Warnings: NOT FOR USE BY INDIVIDUALS UNDER THE AGE OF 18 YEARS. DO NOT USE IF PREGNANT OR NURSING. Contains 250mg of caffeine. Do not consume synephrine or caffeine from other sources and other dietary supplements or medications containing phenylephrine or caffeine. Do not use for more than 8 weeks. Consult your physician or licensed qualified health care professional before using this product if you are using any other dietary supplement, prescription drug, or over the counter drug or medications, including but not limited to, MAOI inhibitors, antidepressants, aspirin, nonsteroidal anti-inflammatory drugs or products containing phenylephrine, ephedrine, pseudoephedrine or other stimulants if you have a medical condition or family history of prostate cancer, prostate enlargement, heart disease, low "good" cholesterol (HDL), liver, kidney or thyroid disease, psychiatric or epileptic disorders, difficulty urinating, diabetes, high blood pressure, cardiac arrhythmia, recurrent headaches, or glaucoma. Discontinue 2 weeks prior to surgery or if you experience rapid heartbeat, dizziness, severe headache or shortness of breath. Do not exceed recommended serving. Exceeding recommended serving may cause serious adverse health effects. Possible side effects include acne, hair loss, hair growth on the face (in women), aggressiveness, irritability and increased levels of estrogen. Discontinue use and call a physician or licensed qualified healthcare professional immediately if you experience rapid heartbeat, dizziness, blurred vision or other similar symptoms. KEEP OUT OF REACH OF CHILDREN. To report any adverse events call 1-800-332-1088.
Payment & Security
Your payment information is processed securely. We do not store credit card details nor have access to your credit card information.