Description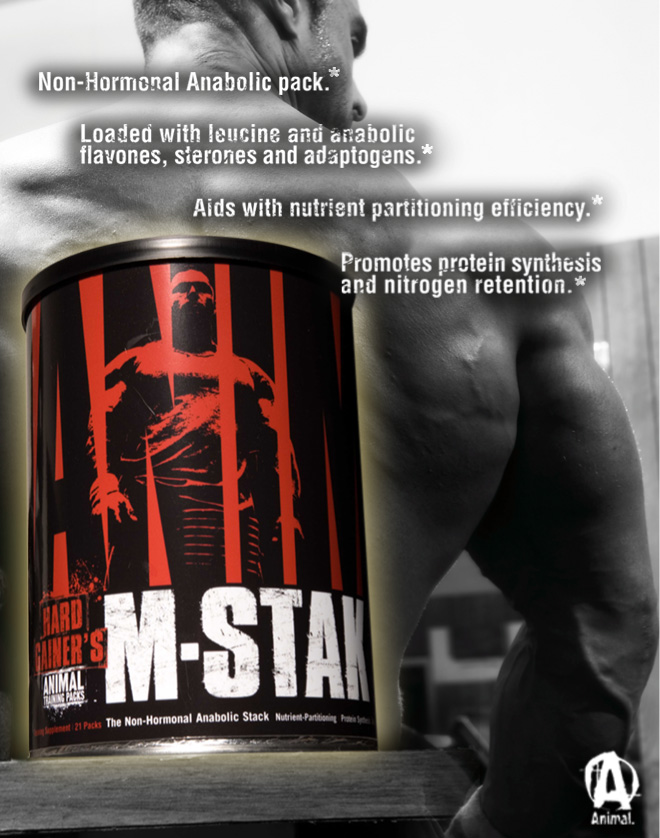 REQUIRED FOR
Natural bodybuilders & powerlifters.
Classic "hardgainers".
Maximizing muscle gains naturally.*
Anabolic & anticatabolics.*
Optimizing non-hormonal anabolism.*
DAILY DOSE
Take one pack every day for 21 consecutive days. On training days, take a pack 45 minutes prior to exercise. On non-training days, take a pack in the morning or early afternoon.
RECOMMENDED STACKS
When you want to fully maximize muscle, performance, and strength, and you want to fully promote your body's anabolic drive, stack Animal M-Stak with Animal Pump and Universal's Torrent.*
What is anabolic? Protein synthesis. Nitrogen retention. "Nutrient-partitioning". The all new Animal M-Stak. A natural supplement which helps boost anabolism and perfect for the classic "hardgainer" in all of us.*
From green beginner to diehard vet, we've all gone through it. Skidding to a halt, our progress idles on a wretched plateau. Can't gain another pound, workouts are stale, lifts are static. This is the hardgainer's syndrome, and from the most slender of ectomorphs to the most muscular endomorph, we've all been there. Desperate to ignite new growth, we'll try almost anything.*
For those of us so dedicated to this game, these frequent moments of desperation have come to an end. The new M-Stak is here, more powerful than ever, designed to obliterate plateaus and support an explosion of raw muscle growth.* Building on the legacy built by the original M-Stak formula, the new M-Stak has taken all of the most powerful components of its predecessor and cranked it up to the next level.
M-Stak has long been built on a foundation of natural anabolic flavones. Born from Eastern European athletic studies, these anabolic flavones have long been highly touted as performance supports capable of promote gains in lean muscle mass.* The new M-Stak formula combines the most powerful of these anabolic compounds in more hearty dosages, making the long storied anabolic potential of the product all the greater.*
Primary among these flavones are Beta-Ecdysterone and Methoxyisoflavone. These ingredients have the ability to shuttle nutrients toward lean mass accumulation, a process known as nutrient partitioning.* Beyond this, these anabolic flavones promote enhanced protein synthesis and nitrogen retention.* These are the mechanisms most crucial in the process of new muscle growth, brought about by M-Stak without any hormonal manipulation.*
"

M-Stak is a potent weapon in my supplement arsenal. The ability to enhance nitrogen retention and protein synthesis, all the while increasing the efficiency with which you utilize calories, is especially priceless for the hardgainer and drug-free iron athlete.*

"

 

-G Diesel, Powerbuilder

Rounding out the Natural Flavone/Sterone Complex are Ajuga Turkestanica and Beta Sitosterol. Ajuga Turkestanica contains the potent phytosteroid extract Turkesterone, suggested to be extremely powerful in advancing protein synthesis.* Beta Sitosterol, while having its own inherent anabolic potential, helps promote a healthy immune system and may help support healthy cortisol levels already within normal range.*

With M-Stak, you also get a powerful anti-catabolic amino blend.* With advanced forms of leucine and the other BCAAs spearheading the mixture, these aminos work from a cellular level to directly stimulate protein synthesis.* Studies suggest that by adding leucine along with a protein/carb meal, you get even greater whole body net protein balance than just consuming protein and carbs alone.* These aminos help to stimulate muscle recovery and protein synthesis via translation regulations, all through non-hormonal means. They do this by supporting key muscle growth regulators such as mTOR, PKB, p70s6k, 4E-BP1, FOXO and MAFbx.* These aminos essentially work as a signal for turning on the muscle building process, supporting increased muscle anabolism following a training session.*

We've also included key "anabolic adaptogens" such as safed musli, muira puama, rhodiola rosea and kudzu extract. Together these herbs have been suggested to help increase physical training capacity, improve endurance, minimize the catabolic stress response, decrease mental fatigue as well as support sexual health and boost support system function.* These are critical factors for naturally enhancing ones performance levels in the gym.

You also get powerful insulin potentiators which work to support insulin production already within healthy range.* Compounds such as K-R-ALA and CinnulinPF™ help your body to utilize ultra anabolic insulin both effectively and efficiently for supporting muscle growth.* This equates to increased uptake of glycogen and increased muscle cell volume which contributes to that full, pumped feeling when you workout.*

M-Stak also delivers a potent energy blend, packed with powerful, natural stimulants, methylxanthines and evodiamine, which are designed to propel you through even the most grueling of training sessions. The addition of this complex, easily identifiable by its red capsule, makes M-Stak perfect for pre-training, lighting that fire under your ass that we all need from time to time.

Finally, M-Stak's M-Factor transport complex works to promote nutrient utilization to ensure the powerful components of the formula are processed to maximum efficacy.* Using ginger root extract coupled with the powerful absorption enhancers bergmottin and bioperine, you can be sure that the myriad growth factors in the M-Stak formula are working to their full capacity and are not going to waste.*

M-Stak floods your system with an abundance of anabolic nutrients, switching your muscle building signals on and turning them to full blast.* Combining flavones and sterones in hefty doses with the most anabolic of amino blends supported by an array of cutting edge adaptogens in a single pretraining pack designed for optimum absorption, the new Animal M-Stak takes non-hormonal anabolics to a whole new level. Animal M-Stak, The Ultimate Hardgainer's Stack, has come to turn "hardgainers" into "hard" gainers. 
What's in Animal Animal M-Stak
21 Packs

Serving Size: 1 Pack

Servings Per Container:

21

Amount Per Serving

% DV

Natural Flavone/Sterone Complex

750 mg

      

Beta Ecdysterone

*

5-Methyl-7-Methoxyisoflavone

*

Ajuga Turkestanica Extract (Turkesterone)

*

B-Sitosterol

*

Anti-Catabolic Amino Complex

3,000 mg

      

L-Leucine

*

L-Isoleucine

*

L-Valine

*

L-Taurine

*

Anabolic Adaptogen Complex

1,000 mg

      

Muira Puama

*

Safed Musli

*

Insulin Potentiating Complex

500 mg

      

4-Hydroxyisoleucine

*

Banaba Leaf Extract (1-3% Colosolic Acid)

*

Cinnulin PF™

*

K-R-Alpha Lipoic Acid (K-R-ALA)

*

M Factor Complex

500 mg

      

Ginger Root Extract (Gingerols, Shaogols)

*

6, 7-Dihydroxybergamottin

*

Bioperine®

*

Energy Complex

500 mg

      

Methylxanthine Complex (Caffeine, Theobromine, Theophylline)

*

Evodiamine

*

* Daily Value (DV) not established

Ingredients:

Methylxanthine Complex (50% Kola Nut Extract

, 22% Guarana Extract)

, Fenugreek Extract

, Cyanotis Vaga Extract

, Evodiae Fructus Extract

, Grapefruit Extract

, Cinnamon Root Extract

, Gelatin

, Di-Calcium Phosphate

, Whey (Milk)

, Microcrystalline Cellulose

, Titanium Dioxide

, Stearic Acid

, Magnesium Stearate

, Fd&C Blue #1

, Fd&C Red #40
Directions For Animal M-Stak: Take one pak every day for 21 consecutive days. On training days, take pak 45 minutes prior to exercise. On non-training days, take pak in the morning or early afternoon. Cycle product for maxium results: three weeks on and one week off.
Warnings: This product contains an extremely powerful flavone and phytoecdysterone complex which may greatly boost performance and muscle size. Please consult your physician before using this product. Not for use by pregnant or nursing women. If you are under a physicians care for any reason, please consult your physician prior to use. Reduce or discontinue use if nervousness, tremors, sleeplessness, loss of appetite or nausea occur. Not for use by persons under 18. KEEP OUT OF REACH OF CHILDREN.
Payment & Security
Your payment information is processed securely. We do not store credit card details nor have access to your credit card information.