Description
Ape Sh*t Untamed is a high energy pre workout supplement formulated to deliver a rapid infusion of relentless aggression, rugged determination, and fearless tenacity to help athletes train harder, last longer, and leave no PR unbroken*. Ape Sh*t Untamed contains well-researched nutrients that enhance muscle pumps and delay the onset of fatigue, ultimately helping individuals train harder and longer.*
PRODUCT BENEFITS
L-Citrulline: Citrulline is an amino acid that increases arginine levels in the body to support nitric oxide production, blood flow, nutrient delivery, energy production and muscle pumps.*
Beta Alanine: Beta alanine supports intramuscular levels of carnosine -
a powerful intracellular buffer that delays the onset of fatigue, thereby improving endurance, stamina, and work output.*
Caffeine: Each full serving of Ape Sh*t delivers 254mg caffeine from a combination of fast and slow-acting caffeines providing both immediate and long-lasting energy and focus to help you push harder and last longer during training.*
Huperzine A: Huperzine is a powerful nootropic that supports acetylcholine levels in the brain, promoting stronger, longer-lasting focus as well as a more "dialed in" mind-muscle connection.*
KEY INGREDIENTS
GBB: Gamma-butyrobetaine (GBB) is a carnitine precursor that has been noted to increase carnitine stores in the body. Carnitine can act as a biological "taxi" that shuttles fatty acids into the mitochondria to be oxidized ("burned") for fuel.*
Beta Alanine: Beta alanine is a well-researched ergogenic noted to help delay the onset of fatigue, thereby improving endurance, stamina, and calorie burning during training.*
Natural Caffeine: Ape Sh*t Cutz includes a robust 300mg of natural caffeine green tea (camelia sinensis) to deliver smooth, long-lasting energy.*
Yohimbine: Yohimbine is a powerful CNS stimulant that supports weight management by inhibiting a regulatory process in adipose tissue that promotes fat storage.*
SUPPORTS YOUR GOALS
We all have those days when we're not "feeling it." Ape Sh*t Untamed is designed to instill the animalistic fury and aggression you need to dominate your workout, no matter the situation. We've included a synergistic matrix of research-backed ingredients to help athletes train harder, last longer, and perform better. If you're someone looking to push the envelope in your training, or shatter stubborn plateaus in muscle or strength, the Ape Sh*t Untamed is for you!*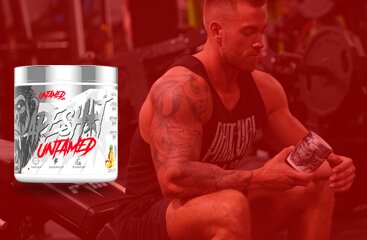 GOOD TO KNOW
Every batch of Ape Sh*t Untamed is tested for quality, purity, and potency.*
Ape Sh*t Untamed contains no "flash in the pan" stimulants that are here today, but banned tomorrow.*
Ape Sh*t Untamed utilizes customized flavoring systems to deliver a pre workout that not only performs consistently well, but tastes phenomenal!*
Ideal for the athlete who loves to push the envelope in their workouts and leave nothing behind.*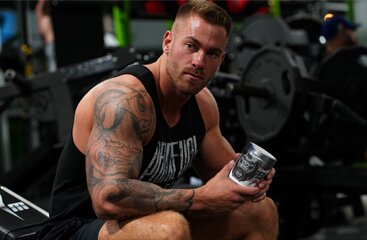 ABOUT THE BRAND
Primeval Labs was started and designed to do two things extremely well, make top tier formulas that deliver our customer the best options for sports supplements and deliver the best tasting line of supplements on the market.
With our line of innovative products, we believe we have achieved just that, leading the way in sports nutrition and supplementation. Not only is it important for us to support your goals, but we want you to truly enjoy each and every one of our products each time you use them.
What's in Primeval Labs Ape Sh*t Untamed
SUPPLEMENT FACTS

Serving Size: 1 Scoop (6.85g)

Servings Per Container

40

Amount Per Serving

% Daily Value

Choline (As Choline Bitartrate)

98 mg

18%

L-Citrulline

2,250 mg

**

Beta Alanine

1,600 mg

**

L-Taurine

1,000 mg

**

Agmatine Sulfate (AgmaMax™)

375 mg

**

Ape Sh*t Blend

410

mg

**

Choline Bitartrate, Caffeine Anhydrous, Caffeine Citrate, DiCaffeine Malate (InfinergyTM), Yohimbine Extract (8% Yohimbine) (Pausinystalia yohimbe (bark), Toothed Clubmoss (Huperzia serrata) (aerial parts) (stadardized to 1% Huperzine A)

**Daily Value not established.

Ingredients

Citric Acid

, Silicon Dioxide

, Natural Flavor

, Sucralose

, Yellow #5

, Yellow #6

Total Caffeine Content: 127mg (1 Scoop)
Directions For Ape Sh*t Untamed: Take 1-2 scoops 15-20 minutes before workout in 8-10 oz. of cold water.
Warnings: Not for anyone under the age of 18. This product is not to be used by anyone sensitive to stimulants such as caffeine. Not for use by individuals under the age of 18 years. Do not use if pregnant or nursing. Consult a physician or licensed qualified healthcare professional before using this product if you have, or have had a family history of heart disease, thyroid disease, diabetes, high blood pressure, depression, or other psychiatric condition, glaucoma, difficulty urinating, prostate enlargement, or seizure disorder. Do not exceed recommended serving. Exceeding recommended serving may cause adverse health effects. Discontinue use and call a physician or licensed qualified health care professional immediately if you experience rapid heartbeat, dizziness, sever headache, shortness of breath or other similar symptoms. Individuals who are sensitive to the effects of caffeine or have a medical condition should consult a licensed health care professional before consuming this product. Do not use this product if you are more than 15 pounds overweight. The consumer assumes total liability if this product is used in a manner inconsistent with label guidelines. Do not usre for weight reduction. This product is intended for use by healthy individuals only. KEEP OUT OF REACH OF CHILDREN. Too much caffeine may cause nervousness, irritability, sleeplessness and occasionally rapid heartbeat.
Payment & Security
Your payment information is processed securely. We do not store credit card details nor have access to your credit card information.