Description

ANYTIME ENERGY* + PERFORMANCE* + RECOVERY*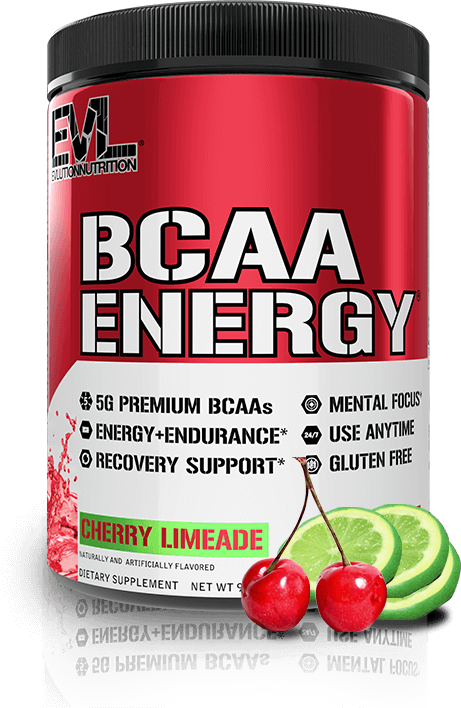 NATURAL ENERGIZERS*
IMPROVE RECOVERY*
BOOST ENDURANCE*
NO ADDED SUGAR
ZERO CALORIE
GLUTEN FREE
Ultrapremium BCAAs in proven 2:1:1 Ratio:
L-LEUCINE
Helps supply energy to muscles and support muscle protein synthesis.*
L-ISOLEUCINE
Supports muscle tissue development, recovery and lean body mass.*
L-VALINE
Plays a key role in supplying energy to muscles.*
Recovery* + Energy* + Endurance Boosters*:
BETA-ALANINE
Supports the buffering of lactic acid.*
L-ALANINE
Supports glucose production for usable energy, endurance and recovery.*
TAURINE
Supports cell hydration, metabolism and mental focus in combination with caffeine.*
VITAMIN B&C COMPLEX
Vitamin B6 and B12 help support energy levels through intense workouts. Plus Vitamin C's powerful antioxidant properties help fight against stress from exercise and it also supports a healthy immune system.*
Natural Energizers:
GREEN COFFEE AND GREEN TEA
Natural Caffeine sources for cleaner energy and antioxidants.*
GREAT MIXABILITY
HOW MUCH ENERGY DO YOU NEED?
| OCCASION | ANYTIME ENERGY | INTENSE TRAINING |
| --- | --- | --- |
| NUMBER OF SCOOPS | 2 SCOOPS | 3 SCOOPS |
| BCAA LEVEL | 5 grams | 7.5 grams |
| TOTAL AMINOS | 6.5 grams | 9.75 grams |
| NATURAL ENERGIZERS | 110 mg | 165 mg |
WHO?
Fitness Enthusiasts and Athletes! BCAA ENERGY® has been designed to boost your anytime energy, recovery and performance needs whether they are before, in-between or after your workouts.*
WHAT?
5g of the highest quality BCAAs per serving combined with Beta Alanine, L-alanine and Taurine to enhance endurance, recovery and focus. BCAA ENERGY® uses natural energizers and antioxidants from Green Coffee and Green Tea for energy and focus without the crash.*
WHEN?
Anytime! Use as an energy and recovery boost anytime you would typically reach for a coffee, soda or energy drink. Customize your experience based on occasion with 1-serving for mild energy and 2-3 servings for more intense anytime energy, performance while training or post-workout recovery.*
WHY TAKE IT?
BCAA ENERGY® contains the highest quality of BCAAs and natural energizers along with zero sugar and carbs. Nothing else offers so many benefits! Once you make the switch, you will never go back!
Payment & Security
Your payment information is processed securely. We do not store credit card details nor have access to your credit card information.