Description

BCAAS + ENERGY* + WEIGHT MANAGEMENT*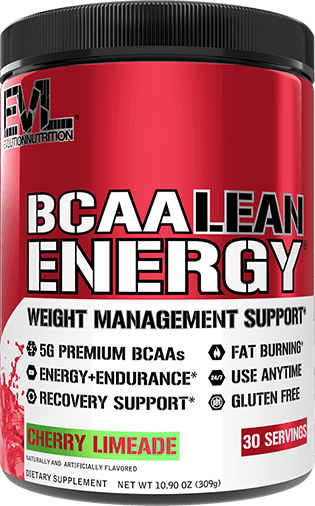 WEIGHT MANAGEMENT*
NATURAL ENERGIZERS*
IMPROVE RECOVERY*
BOOST ENDURANCE*
GLUTEN FREE
BCAA LEAN MATRIX
CLA POWDER
Supports metabolism and usage of stored fat for energy during exercise.*
ACETYL-L-CARNITINE
Supports performance levels while supporting utilization of fat for fuel during exercise.*
MACA POWDER
Peruvian superfood that's a rich source of antioxidants and phytonutrients to support your goals.*
Ultrapremium BCAAs in proven 2:1:1 Ratio:
L-LEUCINE
Helps supply energy to muscles and support muscle protein synthesis.*
L-ISOLEUCINE
Supports muscle tissue development, recovery and lean body mass.*
L-VALINE
Plays a key role in supplying energy to muscles.*
Recovery Energy and Endurance Boosters*:
BETA-ALANINE
Buffers lactic acid production from exercise.*
L-ALANINE
Supports glucose production for usable energy, endurance and recovery.*
VITAMIN B&C COMPLEX
Vitamin B6 and B12 help support energy levels through intense workouts. Plus Vitamin C's powerful antioxidant properties help fight against stress from exercise and it also supports a healthy immune system.*
Natural Energizers:
GREEN COFFEE AND GREEN TEA
Natural Caffeine sources for cleaner energy and antioxidants.*
WHO?
Fitness Enthusiasts and Athletes looking to maintaining a lean physique! BCAA Lean Energy® has been designed to boost your metabolism & energy, while supporting your recovery and performance needs throughout your day.*
WHAT?
5g of the highest quality BCAAs per serving combined with added CLA, Acetyl-L-Carnitine & Maca Powder to help support weight management. Plus, BCAA Lean Energy® adds Beta Alanine, L-Alanine and Taurine to enhance endurance and recovery, and uses natural energizers and antioxidants from Green Coffee and Green Tea for energy + focus.*
WHEN?
Anytime! Use for energy, recovery and metabolism support anytime you would typically reach for coffee, diet soda, or a energy drink.*
WHY TAKE IT?
BCAA Lean Energy® contains the highest quality of BCAAs, weight management support ingredients, and natural energizers. Nothing else offers so many benefits! Once you make the switch, you will never go back!
Payment & Security
Your payment information is processed securely. We do not store credit card details nor have access to your credit card information.