Description

KICKSTART YOUR
RECOVERY!*
PERFORMANCE INSPIRED
POST-WORKOUT BCAA

BENEFITS:
Boosts exercise recovery and supports your fitness goals*
Has added ingredients to support any workout and recovery*
Replenish before, during and after your workout*
Boosts endurance and fuels muscles naturally*
Contains no artificial sweeteners, colors or flavors
Is gluten, soy, caffeine and lactose free
Is stimulant free - use anytime, even at night





Our natural and value-added BCAA has 5g of L-glutamine, 500mg of taurine for metabolic support and a meaningful electrolyte mix that will help you replenish and recover from even the hardest workout!*
Our formula also supports endurance and fuels muscles naturally.* Compare and you will upgrade to Performance Inspired!
Available in Berry Fruit Blast and Tropical Mango Delight.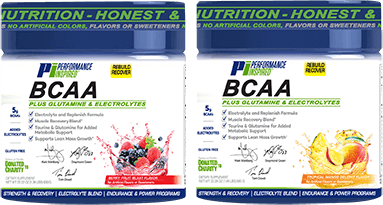 AMINO ACIDS
L-leucine: Helps supply energy to muscles and supports muscle protein synthesis*
L-isoleucine: Supports muscle tissue development, recovery and lean body mass*
L-valine: Plays a key role in supplying energy to muscles*

ELECTROLYTES
We added electrolytes because they are so important and required for various bodily processes, including maintaining normal acid-base balance and keeping you hydrated.* Electrolytes are crucial to nervous system and muscle health.* Electrolytes are also vital for a healthy and active lifestyle. We added them to our BCAA's to create the perfect workout formula!

Payment & Security
Your payment information is processed securely. We do not store credit card details nor have access to your credit card information.