Description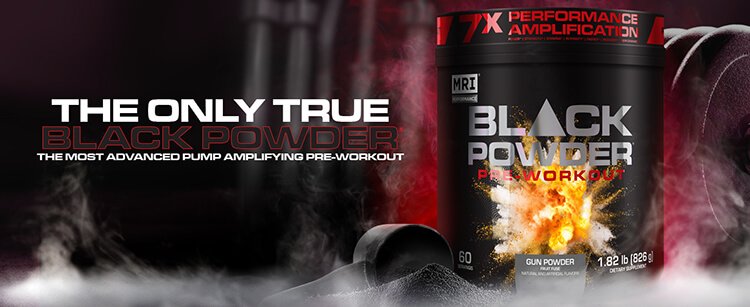 BACK IN BLACK
Help the Body Generate POWER*
Amplify Focus, Energy and Reaction Time for INTENSITY*
Fight Muscle and Mental Fatigue for STAMINA*
Stimulate Protein Synthesis and STRENGTH*
Spark ATP Generation to fuel ENERGY*
Preserve and Power Muscle Function for RECOVERY*
Fuels Muscle PUMP & FULLNESS for PERFORMANCE*
MRI BLACK POWDER: The Most Advanced Pump Amplifying Pre-Workout*
Back in Black
PUMP-MRI Black Powder has at total of 11,000mg of creatine.
With 8,000 mg of Creatine Monohydrate and 3,000mg of Creatine Magna POWER to amplify pump, build muscle and create power.*
This combination sets the foundation for building muscles and results.*
POWER MRI Black Powder Pre-Workout is packed with agmatine and taurine to amplify performance, stamina and recovery.*
BUILD MRI Black Powder Pre-workout has 4,000 mg of (Beta Alanine) Carnosyn to help you build muscle, boost performance and slay results.*
ENERGY- ElevATP's science-backed energy boost and performance enhancing results will keep you motivated and growing.*
FOCUS- Black Powder's AlphaGPC is a choline compound that crosses the blood brain barrier to create razor sharp focus. It combines this cutting-edge ingredient with theanine and tyrosine to keep you committed and motivated from first rep to last lift.*
You will be a POWERHOUSE.
MRI Black Powder Pre-Workout is packed with ingredients scientifically proven to drive rock-hard results.*
Black Powder fuels ATP production so you have the energy to do another rep, climb another flight, add another plate….. *
Formulated with clinically effective ingredients to build muscle and deliver results, this powerhouse formula will turn you into exactly that.*
Focus*
Choline Bitartrate is well known for its ability to enhance focus.* It helps the body create acetylcholine, which is a neurotransmitter associated with improved brain function, focus, memory and intelligence.*
Alpha GPC, also a choline compound, crosses the blood brain barrier to engage your mind from first rep to last lift.*
Theanine and Tyrosine, amino acids, positively impact your brain function and focus.* These two aminos work together to create razor-sharp focus, elevate your mood and keep your mind and body locked & loaded during training.*
Energize*
ElevATP is a combination of peat and apple polyphenols that are clinically shown to increase cellular energy through ATP production which improves performance and stamina.* Get energized. Stay energized.*
Build*
CREATINEMagnaPOWER + Creatine Monohydrate deliver muscle building pump and energy.*
When you supplement with creatine, the body converts it into phosphocreatine. Phosphocreatine is needed to make ATP. It's the ATP regenerator.*
CREATINEMagnaPOWER is magnesium-chelated creatine. This chelated form increases the body's ability to create ATP, increases creatine absorption, carb metabolism and creatine bioavailability.*
CREATINEMagnaPOWER supplies the magnesium atoms required to increase the energy process.
When you combine these two forms of creatine totaling 11,000mg per serving, you're setting yourself up for success.
Fuel your performance and go for powerhouse results.*
Betaine converts homocysteine into methionine which is needed for your body to produce creatine.
Beta Alanine enhances athletic performance and exercise capacity helping you build more lean muscle mass.* Beta Alanine increases the carnosine levels inside your muscles.  Through this increase, you can improve muscle recovery and fatigue post-training.*
Endure*
Agmatine and Taurine work together to improve your performance, stamina and recovery so you can power through your workouts and recover faster.*
Agmatine inhibits the breakdown of NO so you can stay pumped longer.*
Taurine is a required building block of protein and when ingested, it improves muscle contractions and performance.*
All those ingredients together are the PERFECT POWERHOUSE STORM.
Black Powder powers your body with ingredients that are made to build muscle, boost blood flow and pump, sharpen your focus and increase your strength stamina.*
You won't want to quit with Black Powder Pre-Workout.
So don't.
Crush your training goals and get rock hard results.*
What's in MRI Black Powder Pre Workout
Serving Size: 1 Scoop (13.8 g)

Servings Per Container

60

AMOUNT PER SERVING

% DV

Vitamin B6 (Pyridoxine HCl)

4.15 mg

244%

Vitamin B12 (As Methylcobalamin)

5 mcg

208%

Magnesium (as Magnesium Creatine Chelate)

120 mg

29%

Choline (As Choline Bitartrate)

410 mg

75%

OPERATION MUSCLE FEED

8500 mg

Creatine Monohydrate

4,000 mg

†

Carnosyn® (Beta-Alanine)

2,000 mg

†

CREATINE MagnaPOWER® (Magnesium Creatine Chelate)

1,500 mg

†

Betaine Anhydrous (Trimethylglycine)

1,000 mg

†

PERFORMANCE FUEL

1500 mg

L-Taurine

1,000 mg

†

Agmatine Sulfate

500 mg

†

LOCK & LOAD FOCUS

2050 mg

Choline Bitartrate

1,000 mg

†

L-Tyrosine

750 mg

†

AlphaSize® 50WSP Alpha-Glyceryl Phosphoryl Choline (A-GPC)

150 mg

†

(-)-L-Carnitine

150 mg

†

RAPID FIRE ENERGY

225 mg

Caffeine Anhydrous

100 mg

†

ElevATP® (Ancient Peat & Apple Extract)

75 mg

†

Di-Caffeine Malate

37.5 mg

†

Caffeine Citrate

12.5 mg

†

DETOX AGENT

100 mg

Activated Charcoal

100 mg

†

ABSORPTION

2.5 mg

Black Pepper Fruit Extract (Bioperine®)

2.5 mg

†

Percent Daily Value (DV) are based on a 2,000 calorie diet.

† Daily Value not established

Other Ingredients

Natural & Artificial Flavors

, Citric Acid

, Silicon Dioxide

, Sucralose

Manufactured in a facility that processes milk, soy, peanut, tree nut, egg, wheat, fish, and shellfish ingredients.

Free from: Egg, Fish, Crustacean Shellfish, Tree Nuts, Wheat, Peanuts and Soybeans.
Directions For Black Powder Pre Workout:
On training days, adhere to the serving information below. Mix with 4-6 oz of water.
BEGINNER: 1 serving (1 scoop) 0-30 minutes before your workout
ADVANCED: 2 servings (2 scoops) 0-30 minutes before your workout
Warnings: Do not exceed recommended dose listed. This product is not intended for use by any persons under age 18, who are pregnant or lactating, or have serious medical conditions including high blood pressure and a history of cold sores, are taking prescription drugs, or have allergies to arginine, corn, or citrus fruit. All persons should consult a physician or your healthcare professional before using dietary supplements, as individuals may have different supplemental needs. Consumption of this product that is inconsistent with recommended usage may produce adverse side effects. Discontinue use and contact a physician immediately if you experience any adverse symptoms. Discontinue use two weeks prior to surgery. This product contains 150 mg of caffeine per one scoop, and may not be appropriate for stimulant-sensitive individuals. Do not use with caffeine/stimulants, alcohol, nitrates, under extreme conditions of heat, sleep deprivation or dehydration.
Payment & Security
Your payment information is processed securely. We do not store credit card details nor have access to your credit card information.