Description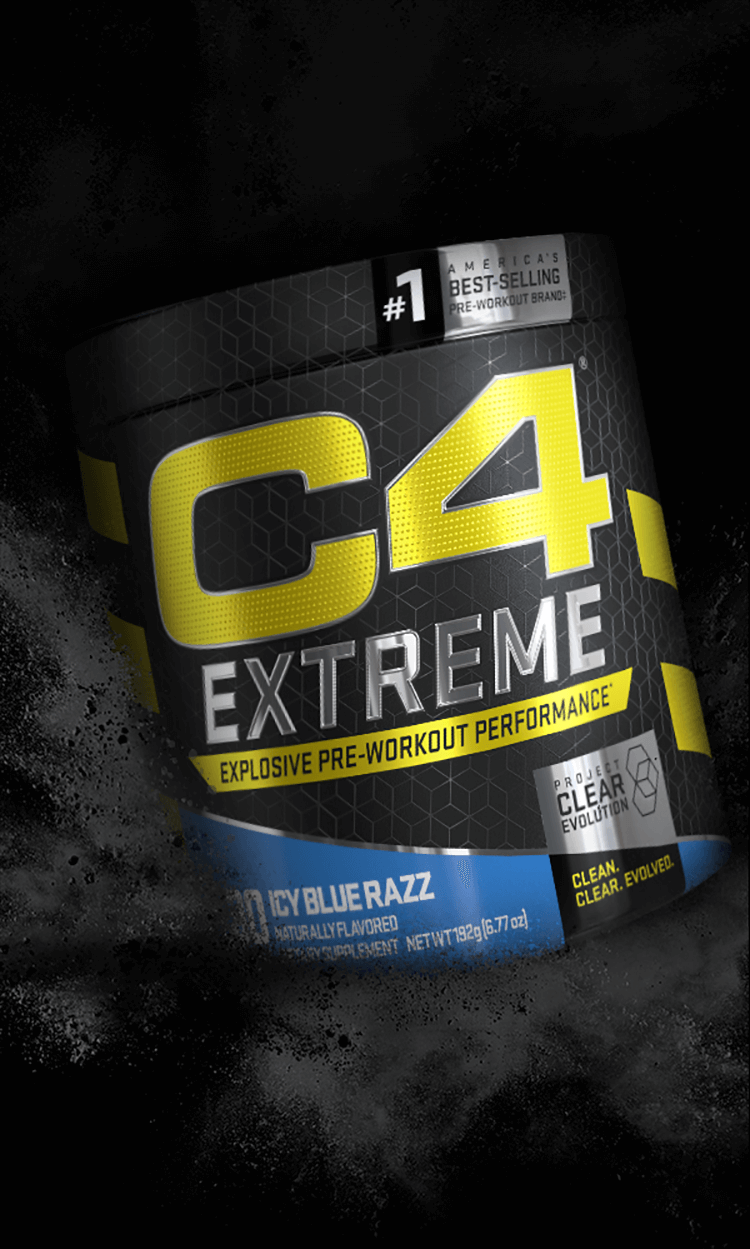 PERFORMANCE
ENERGY
EVOLVED
Over two years in the making, spanning multiple formula tweaks and hundreds of flavor tests, C4® Extreme has been re-engineered and re-imagined from the ground up to help support explosive energy, extreme performance, powerful pumps, and mental alertness.* This is the product that defined a category, now evolved and updated.
We ran C4® Extreme through several hundred rounds of flavor sampling to make sure it exceeds every expectation, and we didn't settle for anything less than the best. If a flavor didn't measure up, we moved on. We're proud to say that C4® Extreme's flavor array wins in every way — including our new, naturally sweetened flavors.
FEATURING
NITRAMAX
(NO3-C)™
UNLIKE CITRULLINE OR CITRULLINE MALATE, which work through a single mechanism, Nitramax™ supports two mechanisms of NO creation, the arginine pathway (eNOS) and the nitrate-nitrite conversion system, to help promote the ultimate pump.* Created by bonding citrulline with patented nitrates, Nitramax (NO3-C)™ is an advanced compound that delivers dual-pathway nitric oxide (NO) support.*


CLEAN
NO ARTIFICIAL DYES.
NO ARTIFICIAL FLAVORS.
CLEAR
FULLY TRANSPARENT LABEL.
NO PROPRIETARY BLENDS.
EVOLVED
INNOVATIVE INGREDIENTS.
ENHANCED FORMULAS.
Introducing Project Clear Evolution: our mission to set a higher standard in sports nutrition. To elevate the entire C4® family—and beyond—by pioneering the next generation of premium, better-for-you performance supplements.
We're swapping artificial colors and flavors in favor of natural options, peeling back prop blends to showcase all the performance ingredients that make our products tick, and boosting our formulas with enhanced inputs for extreme performance.* This is the future of sports nutrition, and it starts with the all-new C4® Extreme.
PATENTED
AND CLINICALLY STUDIED INGREDIENTS
200

MG
CAFFEINE
EXPLOSIVE ENERGY*
CAFFEINE ANHYDROUS SUPPORTS ENERGY, MENTAL ALERTNESS, AND MENTAL AND PHYSICAL PERFORMANCE.*
2

G
CARNOSYN®
BETA-ALANINE
MUSCULAR ENDURANCE*
THIS PATENTED FORM OF BETA-ALANINE HAS BEEN CLINICALLY SHOWN TO FIGHT FATIGUE AND IMPROVE MUSCULAR ENDURANCE.*
1

G
NITRAMAX (NO3-C)™
CITRULLINE NITRATE
NITRIC OXIDE BOOSTER*
OUR EXCLUSIVE DUAL PATHWAY NITRIC OXIDE (NO) AMPLIFIER IS FORMULATED WITH PATENTED NITRATES TO SUPPORT BETTER PUMPS AND ARC LIKE LIGHTNING IN YOUR VEINS.*
1

G
NO3-T®
CREATINE NITRATE
2 IN 1 CREATINE & N.O. BOOSTER*
THIS 2-IN-1 PERFORMANCE AND PUMP AMPLIFIER, BOTH A CREATINE AND NO BOOSTER, IS FORMED WHEN CREATINE IS BONDED WITH NITRATES. CREATINE NITRATE MAY HELP SUPPORT STRENGTH, SIZE, AND PUMPS.*
What's in Cellucor C4 Extreme
Serving Size 6.4g (Appox. 1 level scoop)

Servings Per Container

30

Amount Per Serving

%DV

CarnoSyn® Beta-Alanine

2 g

†

Citrulline Nitrate [as NitraMax (NO3-C)™]

1 g

†

Creatine Nitrate (NO3-T®)

1 g

†

Caffeine (as Caffeine Anhydrous)

200 mg

†

N-Acetyl-L-Tyrosine

200 mg

†

Huperzine A [from Toothed Clubmoss (Huperzia serrata) Aerial Parts Extract

50 mcg

†

† Daily Value not established

Other Ingredients:

Natural Flavors

, Silicon Dioxide

, Malic Acid

, Calcium Silicate

, Acesulfame Potassium

, Sucralose

, Spirulina extract (color).
Directions For C4 Extreme: Take one serving (approx. 1 level scoop) of C4® Extreme mixed with 6 fl. oz. of water, 20-30 minutes before training.
Warnings: THIS PRODUCT IS ONLY INTENDED FOR HEALTHY ADULTS, 18 Y E ARS OF AGE OR OLDER. Do not use if pregnant, nursing, currently taking PDE5 inhibitors or nitrates for chest pain. Before taking this product, consult a licensed, qualified, health care professional, especially if you are taking any other dietary supplement, prescription drug or over-the-counter medication; or if, you suspect you have or have been treated for, diagnosed with or have a family history of, any medical condition. This product contains caffeine and should not be used in combination with caffeine or stimulants from other sources. Discontinue use 2 weeks prior to surgery. Immediately discontinue use and contact a medical doctor if you experience any adverse reaction to this product. Do not use this product continuously for more than 8 weeks. Do not use if safety seal is broken or missing. Store in a cool, dry place. KEEP OUT OF REACH OF CHILDREN. This product is sold by weight, not volume. The density of the powder varies, and significant settling of powder may occur during shipping and handling. This product contains the servings indicated when measured by weight. Some individuals may experience a harmless tingling sensation, which is attributed Beta-Alanine. USE ONLY AS DIRECTED.
Payment & Security
Your payment information is processed securely. We do not store credit card details nor have access to your credit card information.