Description
The C4® family has been pioneering, building, and perfecting pre-workouts longer than some brands have been in sports nutrition. Since its launch in 2016, C4® Ultimate has delivered energy you can feel, powerful pumps, muscular endurance, extreme focus, and peak performance in every scoop.
C4® Ultimate is a call to action. It's a challenge, beckoning you to break records, crush your goals, and make the most of every workout. The question is: Are you up to that challenge?
PRODUCT BENEFITS
CLEAN:

 

Free From Artificial Dyes or Flavors
CLEAR:

 

Fully Disclosed Label with No Proprietary Blends
EVOLVED:

 

Upgraded with Cutting-Edge Ingredients & Clinically Effective Dosages
Helps You Train Longer & Harder
Helps You Stay Focused In The Gym
Helps You Reach Your Fitness Goals
KEY INGREDIENTS
C4® Ultimate features the cutting-edge performance ingredient: Nitramax (NO3-C)™.
Created by bonding citrulline with patented nitrates, Nitramax (NO3-C)™ is an advanced compound that delivers dual-pathway nitric oxide (NO) support. Unlike citrulline or citrulline malate, which work through a single mechanism, Nitramax™ supports two mechanisms of NO creation, the arginine pathway (eNOS) and the nitrate-nitrite conversion system, to help promote the ultimate pump.*
SUPPORTS YOUR GOALS
C4® Ultimate packs 300mg Caffeine, 3.2g CarnoSyn® Beta-Alanine, 4g L-Citrulline, 2g Creatine Performance Complex, 1g Citrulline Malate, 1g NitraMax (NO3-C)™, 1g Creatine Nitrate (NO3-T)™, and other performance ingredients to support your fitness journey.
C4® Ultimate can be consumed 20-30 minutes before your training session to support extra reps, sets, and minutes spent in the gym for maximum gains.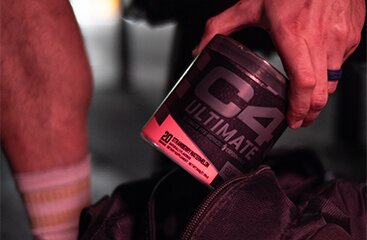 GOOD TO KNOW
For those less sensitive to stimulants, the average individual can expect to feel the full effects within 45 minutes and last for 3-6 hours. For those more sensitive to stimulants, the effects will likely be felt faster and last closer to 6 hours.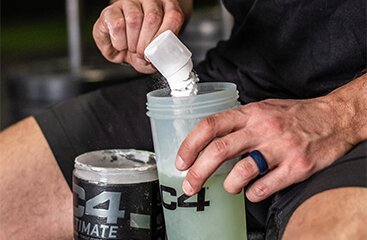 ABOUT THE BRAND
C4® has become the undisputed pre-workout champ, with over 2 billion servings sold, and makes a full range of leading products for people who want to maximize performance and dominate life.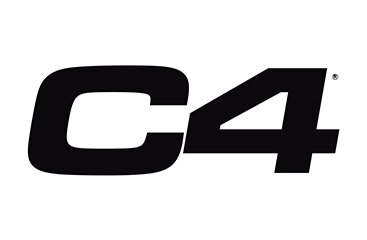 What's in Cellucor C4 Ultimate Clear Evolution Pre-Workout
Serving Size: 16g (Approx. 1 Level Scoop)

Servings Per Container:

20

Amount Per Serving

%DV

Calories

5

      

Total Carbohydrate

1 g

<1%**

Total Sugars

0 g

†

C4® Super Citrulline Pump Matrix

6 g

†

L-Citrulline

4 g

      

Citrulline Malate

1 g

      

Citrulline Nitrate [as NitraMax (NO3-C)™]

1 g

      

Carnosyn® Beta-Alanine

3.2 g

†

Creatine Hydrochloride (Patented CREATINE HCL®)

1 g

†

Creatine Nitrate (PATENTED) (as NO3-T®)

1 g

†

Taurine

1 g

†

N-Acetyl L-Tyrosine

400 mg

†

Caffeine Anhydrous

300 mg

†

AlphaSize® 50% A-GPC (Alpha-Glycerylphoshorylcholine)

200 mg

†

Theacrine (as TeaCrine®)

62.5 mg

†

Rauwolfia vomitoria root extract

1 mg

†

Huperzine A [from Toothed Clubmoss (Huperzia serrata) aerial parts extract]

50 mcg

†

** Percent Daily Value (%DV) are based on a 2000 calorie diet.

† Daily Value not established.

Other Ingredients :

Calcium Silicate

, Silicon Dioxide

, Natural Flavors

, Acesulfame Potassium

, Sucralose

, Citric Acid

, Spirulina Extract (color)
Directions For C4 Ultimate Clear Evolution Pre-Workout: Take one serving (approx. 1 level scoop) of C4 Ultimate, mixed with 12 fl. oz. of water (adjust for taste preference) 20-30 minutes before training. Some individuals may experience harmless tingling sensation, which is attributable to Beta-Alanine. USE ONLY AS DIRECTED.
Warnings: THIS PRODUCT IS ONLY INTENDED TO BE COMSUMBED BY HEALTHY ADULTS, 18 YEARS OF AGE OR OLDER. Do not use this product if you are pregnant, nursing, or currently taking PDE-5 inhibitors or nitrates for chest pain. Before taking this product, consult a licensed, qualified, healthcare professional, especially if you are taking any other dietary supplement, prescription drug or over-the-counter medication; or, if you suspect you have been treated for, diagnosed with, or have a family history of, any medical condition, including but not limited to: high or low blood pressure, diabetes, anxiety, cardiovascular, psychiatric or seizure disorders, cardiac arrhythmia, stroke, heart, liver, kidney, or thyroid disease, or difficulty urinating due to prostate enlargement. This product contains caffeine and should not be used in combination with caffeine or stimulants from other sources. Discontinue use 2 weeks prior to surgery. Immediately discounting use and contact a medical doctor if you experience any adverse reactions to this product. Do not use this product continuously for more than 8 weeks. Do not use if safety seal is broken or missing. Store in a cool, dry place. KEEP OUT OF THE REACH OF CHILDREN. This product is sold by weight, not volume. The density of the powder varies, and significant settling of powder may occur during shipping and handling. This product contains the servings indicated when measured by weight.
Payment & Security
Your payment information is processed securely. We do not store credit card details nor have access to your credit card information.