Description
Grenade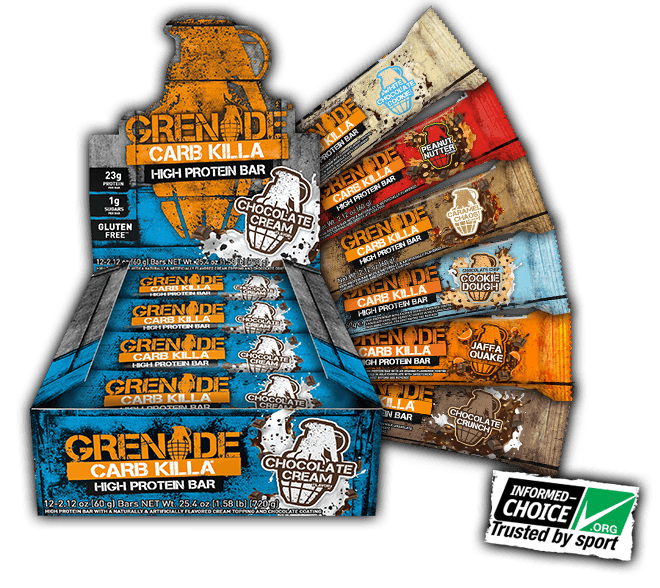 A TRIPLE-LAYERED DELICIOUSLY CRUNCHY LOW CARB HIGH PROTEIN BAR!
Carb Killa® is made using a specially selected baking process for exceptional taste resulting in a softer, crunchier texture. Carb Killa is high in complete proteins, low in impact carbs and loaded with tons of fiber.
Carb Killa is available in various flavors, each made up from delicious triple layers, filled with crunchy 'crispies' all coated in chocolate. Containing less than 2g of sugar and 2g of impact carbs, and only 214 calories*. With low sugar and low calories, this bar really is the perfect high protein low carb snack.
*Values may vary between flavors
This content cannot be displayed because you have disabled Experience cookies. Update your cookie settings to show this content.
Grenade® Peanut Nutter Pancake Stack
Ingredients - Serves two
Pancakes:
120g (1 cup) Gluten free Flour
17.5g Vanilla Hydra 6®
1 Tsp baking powder
½ Tsp baking soda
1 Tbsp coconut oil
1 Tbsp zero fat Maple syrup
1 egg
½ Tsp salt
40oz Almond milk
¼ cup skimmed milk
Topping:
1 Grenade Peanut Nutter Carb Killa Protein bar
1 Tbsp Zero fat maple syrup
1/4 Banana
Tbsp Peanut Butter
Instructions
Mix all the pancake dry ingredients together in one bowl, then the wet in another. (It is super important to keep WET and DRY ingredients separate when making the pancake mix).
Add wet ingredients to dry (Not the other way around!) and mix gently, not much effort needed here as you want to keep the mix quite thick in consistency and just combined.
Heat up frying pan with very little coconut oil. Pour mix in small amounts, cook till bubbles appear 2 minutes then flip and cook the other side.
Garnish with small pieces of Grenade Peanut Nutter bar, banana slices, peanut butter melts and a drizzle of zero fat maple syrup. Enjoy!
What's in Grenade Carb Killa Protein Bar
1 - 60g Bar

Caramel Chaos

Serving Size 1 Bar (60g)

Servings Per Container

1

Amount Per Serving

% Daily Value *

Calories

210

      

Calories From Fat

70

      

Total Fat

8 g

12%

Saturated Fat

4 g

20%

Trans Fat

0 g

      

Cholesterol

5 mg

2%

Sodium

170 mg

7%

Potassium

35 mg

1%

Total Carbohydrate

20 g

7%

Dietary Fiber

7 g

28%

Sugars

1 g

      

Sugar Alcohol

11 g

      

Protein

23 g

46%

Vitamin A

0%

Vitamin C

0%

Calcium

15%

Iron

4%

* Percent Daily Values are based on a 2,000 calorie diet. Your Daily Values may be higher or lower depending on your calorie needs.

Ingredients:

Milk Protein (Calcium Caseinate

, Milk Protein Isolate

, Whey Protein Isolate)

, Chocolate (Maltitol

, Cocoa Butter

, Whole Milk Powder

, Cocoa Mass

, Emulsifier (Soy Lecithin)

, Natural And Artificial Flavors)

, Polydextrose

, Gelatin hydrolysate

, Glycerol

, Soy Crisps (Soy Protein Isolate

, Tapioca Starch

, Salt)

, Soy Crisp (Soy Protein Isolate

, fat reduced cocoa

, Tapioca Starch)

, Cocoa Butter

, Soy oil

, Palm Fat

, Xylitol

, sucralose

, Skimmed Milk Powder

, Natural And Artificial Flavors

, fat reduced cocoa

, salt

, Emulsifier (Soy Lecithin).

ALLERGENS: MILK, SOY.

MANUFACTURED IN A FACILITY THAT ALSO PROCESSES GLUTEN, TREE NUTS, PEANUTS, WHEAT AND EGGS.
Warnings: CARB KILLA® should be consumed as part of a balanced diet. Product contains more than 10g/100g Polyols. Excessive consumption may product laxative effects. Keep out of reach of children. Store in a cool, dry place.
STORAGE CONDITIONS: Store at a temperature range of 60° to 72°F, away from direct sunlight, extremes of heat change, odor & humidity.
**NO GLUTEN containing ingredients in the Carb Killa® recipe. However, Carb Killa® is manufactured in a facility that handles gluten.
Payment & Security
Your payment information is processed securely. We do not store credit card details nor have access to your credit card information.