Description

CARBO-FUEL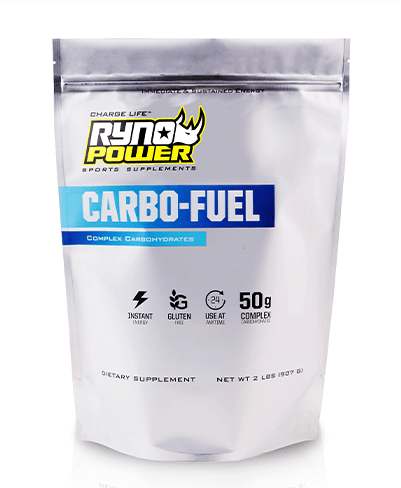 CLEANEST ENERGY AVAILABLE
REAL COMPLEX CARBS

INSTANT
ENERGY

GLUTEN
FREE

USE AT
ANYTIME
FUEL THE RIGHT WAY

100% pure glucose polymers extracted from non-GMO corn to provide the cleanest and most accessible fuel for your muscles*

Instantly replace lost glucose and carbohydrates, effectively replace muscle glycogen and facilitate muscle-building and repair*
Allergen-free, gluten-free, with no sugars, colorings, flavors or preservatives. The cleanest and easiest carbs to use for your workouts*
FAMILY FIRST
At Ryno Power we are committed to using the highest quality, safest, and most natural ingredients. We offer performance products that you can trust, use every day, and feel comfortable giving to your children and family members. We have all the best ingredients you need to compete at the highest level.*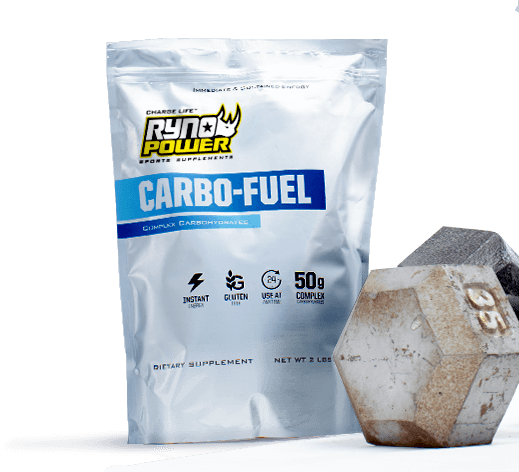 INSTANT
ENERGY
Ryno Power Carbo-Fuel is made from pure non-GMO complex carbs and, when mixed into water or recovery shake, provides continuous quality nutrition for all activities. Sip throughout breaks to help feel refreshed during training.*

GLUTEN
FREE
Ryno Power is committed to the highest-quality ingredients available. All of our products have no additives, fillers, or oils. Our Carbo-Fuel is made from the best glucose polymers extracted from non-GMO corn.

USE AT
ANYTIME
Ryno Power has made carbo-loading easy with the best fuel available. Whether before, during, or after your activity, Carbo-Fuel provides complex carbs for you to refuel and keep going. Colorless and flavorless, it mixes perfectly with Ryno Power Protein, Hydration Fuel, or water.*
Each serving of Ryno Power Carbo-Fuel provides 50 grams of pure complex carbs right when you need it. Customize your carbo-loading to give you exactly what you need for training, competition, or your daily workouts.*
WHEN TO USE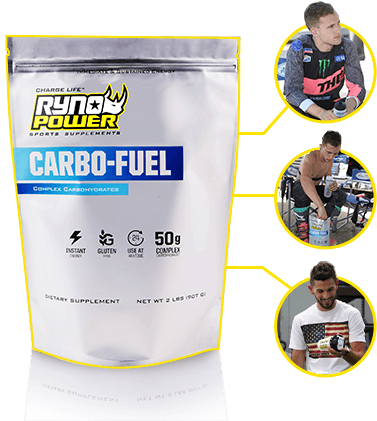 BEFORE
Carbo-load for 2-3 days before a major event with 1-2 scoops in 12oz. cold water twice a day.
DURING
Adjust carb intake for your activity. Usually 2-4 calories per hour, per lb. of body weight. 1 scoop = 100 calories of energy
AFTER
2-3 scoops in 10-16oz. cold water within 30 minutes after activity.
ABOUT RYNO POWER
Founded by Ryan McCarthy and Ryan Hughes, Ryno Power's mission is to provide elite-quality supplements to everyone from action sports athletes to those looking to lead a healthy lifestyle. All products are designed with high-quality, gluten-free, and performance-tested ingredients, with all athletes in mind as we develop the fuel your body will use and how it will affect your performance.
These products have been designed, tested, and proven by champions. CHARGE LIFE with us!
What's in Ryno Power Carbo-Fuel Complex Carbohydrates
Serving Size 2 Scoops = 1.8 oz. (50 g)

Servings Per Container

18

Amount Per Serving

Calories

200

      

Calories from Fat

0

      

% Daily Value *

Total Fat

0 g

0%

Saturated Fat

0 g

0%

Cholesterol

0 g

0%

Sodium

0 mg

0%

Potassium

0 mg

0%

Total Carbohydrate

50 g

18%

Dietary Fiber

0 g

0%

Sugars

0 g

      

Protein

0 g

0%

* Percent Daily Values are based on a 2000 calorie diet

Ingredients:

Pure glucose polymers extracted from Non-GMO Corn.

Contains no preservatives, color, dairy, gluten, soy, sweeteners, or yeast.

WARNING: Diabetics may use only under a physician's supervision.
Directions For Carbo-Fuel Complex Carbohydrates: Mix 2 Scoops of Carbo-Fuel with 6-12 oz. of Water before and after your activity
Warnings: WARNING: Diabetics may use only under a physician's supervision. Keep away from young children. Store in a cool dry place
Payment & Security
Your payment information is processed securely. We do not store credit card details nor have access to your credit card information.