Description
HIGH SPEED MASS
ALL BEEF GAINER*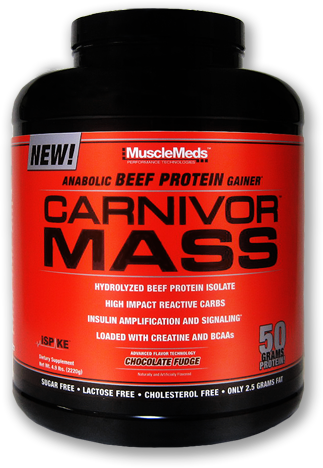 THE WORLD'S FIRST HIGHLY ANABOLIC ALL BEEF MASS BUILDER!*
50g Hydrolyzed BEEF Protein Isolate
125g High Impact Reactive Carbs
Loaded with Creatine and BCAAs
Sugar Free
Lactose Free
Less than 2 Grams Fat
HIGH-SPEED MASS
Ignite Anabolism: Faster Protein, Faster Carbs and iSpike Promote Explosive Muscle Growth!*
It takes more than just calories to gain muscle mass. In order to stimulate rapid muscle growth (and not fat) it takes both calories and precise nutrient partitioning to create a highly anabolic environment.
CARNIVOR MASS – FEEL THE ANABOLIC IMPACT
CARNIVOR MASS is the epitome of an anabolic support supplement and is more advanced than any typical mass gainer.* Where regular foods and typical gainers are limited in terms of speed of absorption, CARNIVOR MASS excels. It combines a unique best-of-breed hydrolyzed beef protein isolate (BPI) with iSpike™. BPI and iSpike act in tandem to support maximum muscle anabolism while helping minimize fat storage.* CARNIVOR MASS is an extremely fast, clean and highly anabolic gainer.* Welcome to a new era in mass building supplementation with CARNIVOR MASS, the fast, clean, highly anabolic mass gainer!*
Beef Protein Isolate – Backed By Research To Build Muscle! Beef has proven itself as a favorite anabolic protein source for many athletes and champion bodybuilders. Now MuscleMeds is the first to provide bodybuilders with a highly advanced weight gainer supplement containing the CARNIVOR Beef Protein Isolate (BPI). The use of BPI in CARNIVOR MASS provides spikes in blood amino acid levels at speeds comparable to whey, providing fast muscle building action.* In addition, the anabolic actions of CARNIVOR Beef Protein Isolate are backed by science!
MuscleMeds advanced hydrolyzed CARNIVOR Beef Protein Isolate provides the power of beef at the speed of whey, delivering rapid absorption of high concentrations of amino acids without the lactose, allergens, fat, cholesterol and other problems associated with dairy products.* This pure beef protein isolate is also 350% more concentrated in amino acids than steak and more concentrated than whey. Plus CARNIVOR MASS is enhanced with 5 grams of creatine and additional BCAAs for even greater anabolic power!*
IDEAL TIMES OF USE
With its Beef Protein Isolate and iSpike Technology, CARNIVOR MASS allows the advanced bodybuilder to achieve high-speed macronutrient delivery in one convenient product.* CARNIVOR MASS is ideal for consumption:
Post-workout (to maximize recovery and muscle growth).*
Upon awakening in the morning (to suppress catabolism and promote anabolism).*
Any other time when several hours have passed since your last meal.

14 Servings

Chocolate Peanut Butter

Serving Size 4 Scoops (185 g)

Servings Per Container Approximately

14

Amount Per Serving

% Daily Value

Calories

715

      

Calories From Fat

15

      

Total Fat

2 g

3%†

Cholesterol

5 mg

0%

Total Carbohydrate

125 g

42%†

Dietary Fiber

1 g

5%†

Protein

50 g

100%†

Chromium (As Chromium 454® Bio-Organic Yeast Matrix)

200 mcg

167%

Sodium

600 mg

25%

Potassium

165 mg

5%

† Percent Daily Values are based on a 2,000 calorie diet

‡ Daily Value not established.

Ingredients:

ISPIKE™ Technology [Consisting Of Insulin-Release-Amplifying Reactive Carbohydrate System (Micronparticulated Maltodextrin

, Micronparticulated Waxy Maize

, Amylase

, Gluco-Amylase)

, And Insulin-Signal-Amplifying System (Agaricus Blazei

, D-Pinitol

, 4-Hydroxyisoleucine

, Patent-Pending Chromium 454™)]

, CARNIVOR-BPI [Consisting Of Hydrolyzed Beef Protein Isolate

, Creatine Monohydrate

, L-Glutamine

, Branched Chain Amino Acids (BCAAs: L-Leucine

, L-Valine

, L-Isoleucine)

, And Anabolic Nitrogen Retention Technology™ Intermediates: GKG (Glutamine-Alpha-Ketoglutarate)

, OKG (Ornithine-Alpha-Ketoglutarate)

, AKG (Alpha-Ketoglutarate)

, And KIC (Alpha-Ketoisocaproate)]

, Hydrolyzed Gelatin

, Cocoa

, Natural And Artificial Flavors

, Peanut Flour

, Medium-Chain Triglycerides (MCTs)

, Salt

, Acesulfame Potassium

, Sucralose.

Contains: Peanuts.




Directions For Carnivor Mass: Add 16 fl. oz. (475mL) of water to a shaker bottle, blender or other container. Add 4 scoops of CARNIVOR MASS. Mix or blend until the desired texture is achieved before drinking. For a thicker, sweeter shake, add less water. For a thinner shake, add more water.

Warnings: Keep Out Of Reach Of Children.
Protect from heat, light and moisture.
Do not purchase if seal is broken.
Payment & Security
Your payment information is processed securely. We do not store credit card details nor have access to your credit card information.