Description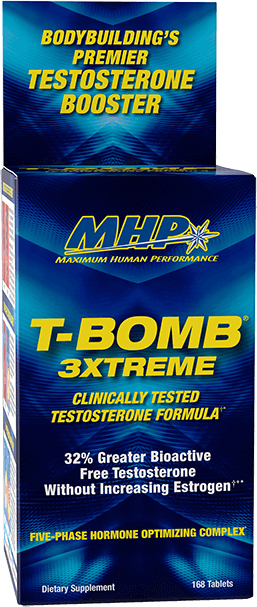 KING OF
TESTOSTERONE*
CLINICALLY TESTED
TEST FORMULA
5 Phase Hormone Optimizing Complex*
Supports Healthy Testosterone Levels*
Boosts Free Testosterone Over 30% Within a Normal Range*
Supports Muscle Mass, Strength & Libido*
All Natural Herbal Ingredients, Tribulus, Fenugreek, DIM & Saw Palmetto
Time Tested, Millions of Bottles Sold
T-BOMB 3XTREME
For over a decade, men have used T-Bomb to naturally support healthy testosterone levels.* Its highly innovative formula has been shown to boost free testosterone levels over 30% – within your normal range – while supporting an increase in strength and hypertrophy.*
Multi-Ingredient Testosterone Formula*
Tribulus, Fenugreek & Zinc to Increase Free Testosterone*
DIM, Chrysin & Stinging Nettle Leaf to Balance Normal Estrogen Levels*
Saw Palmetto & Beta Sitosterol to Balance Normal DHT Levels*
University Tested Formula
Every Reason to Believe
Millions of Bottles Sold
Boosts Free Testosterone*
Enhances Muscle & Strength*
Supports Libido & Mood*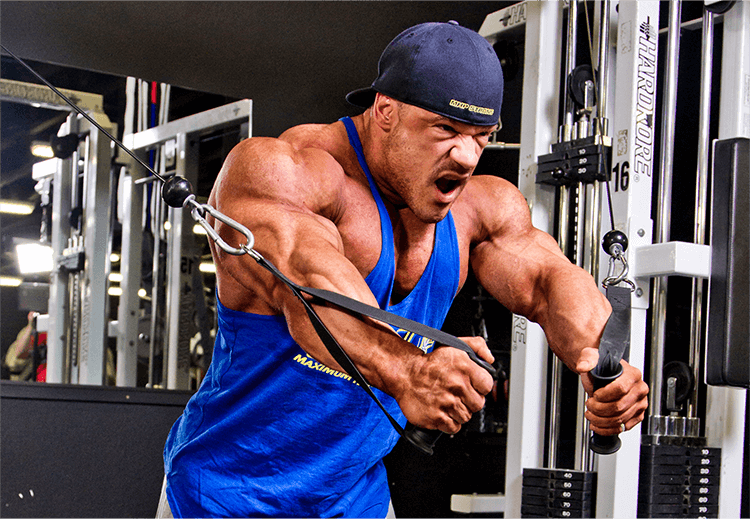 CLINICALLY TESTED RESULTS
In a double blind placebo control experiment, T-Bomb 3xtreme was given to college aged, competitive athletes who were training upwards of 9 times weekly for six weeks, including competitive games, practices and weight lifting. The conditions were so harsh, that athletes taking a placebo actually decreased testosterone and free testosterone, plus lost lean body mass. Incredibly, at the end of the study athletes taking T-Bomb 3xtreme had over 30% greater increases in free testosterone relative to the control group, with no change in estrogen levels, plus higher lean body mass.* These results suggest that T-Bomb 3xtreme works under even the harshest of training conditions.*
Over 30% Greater Free Bioactive Testosterone*
More Lean Muscle Mass*
Boost Strength*
Supports Mood & Libido*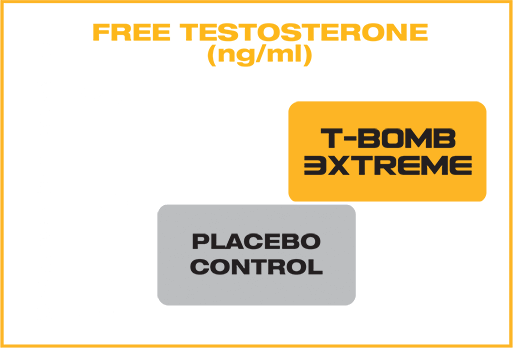 #MHPSTRONG
What's in MHP Clinical Strength T-Bomb 3Xtreme
168 Tablets

Serving Size: 3 Capsules

Servings Per Container: 56

Amount Per Serving

% Daily Value

Magnesium

15 mg

4%

Zinc

25 mg

227%

Copper

2 mg

222%

Clinical Strength, 5-Phase Testosterone Boosting and Estrogen Control Complex

1,084

mg

‡

Tribulus terrestris (15% protodioscin, 60% saponins) (fruit), Fenugreek Seed Extract (50% saponins), Chrysin, Red Clover Extract (8% isoflavones)(aerial parts), Kudzu Root (Pueraria lobata) Extract (40% isoflavones), Zinc Sulfate, Long Jack 50:1 Extract (root)(Eurycoma longifolia Jack), Copper Gluconate, DIM (diindolymethane), Nettle Extract (Leaf extract) (Urtica dioica), Avena sativa 10:1 extract (whole plant), Saw Palmetto Berry Extract (25% Total Sterols and Free Fatty Acids), Bioperine® (Black Pepper Fruit Extract), and beta-sitosterol (from plant sterols).

Testosterone Signaling Amplification Blend

625

mg

‡

Flaxseed, Stearic Acid, Glycine, Magnesium Oxide, L-Arginine (as L-arginine HCl), Dipotassium Phosphate, Dl Malic Acid, L-Methionine, Cordyceps Extract (fungi) (Cordyceps sinensis), and Nicotinamide Adenine Dinucleotide, Reduced from Disodium (NADH).

‡ Daily Value not established.

Other Ingredients:

Rice Flour

, Gelatin (Capsule

, Titanium Dioxide

, FD&C Blue #2 Lake)

, Magnesium Stearate

, and Silica.
Directions For Clinical Strength T-Bomb 3Xtreme: As a dietary supplement, take 3 capsules in the morning and 3 capsules in the evening with 8 fl. Oz. of water. You may take before, during or after a meal – whichever is preferred.
Warnings: Consult with your physician before using this product. Do not take this product if you have a medical condition including, but not limited to, diabetes, heart disease, psychological disorders, prostate hypertrophy or hormonal abnormalities. Consult with your physician if you are taking antidepressants, MAO inhibitors or other prescription drugs. This product should not be used by women or males under the age of 18. Not intended for use by pregnant or lactating women.
Payment & Security
Your payment information is processed securely. We do not store credit card details nor have access to your credit card information.