Description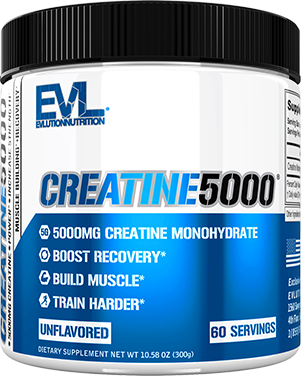 100% PURE
5000MG CREATINE
TRAIN HARDER*
BUILD MUSCLE*
5 grams of 100% pure creatine monohydrate per serving

Most proven and effective analogue based on years of scientific study*
Supports increased muscle mass*
Supports improved performance*
Supports increased strength*
Supports production of adenosine triphosphate (ATP) which supplies energy to cellular function*
WHO?
All Athletes! Whether a long lifting session or a tough date on the field, Creatine5000™ provides the tools for muscle recovery so you can train just as hard the next day.*
WHEN?
Take 1 scoop immediately after your workout with 8-12 ounces of cold water or juice.
WHY TAKE IT?
100% Pure Creatine5000™ will help build muscle and body recovery after inactivity.* Rapid recovery is a necessity for anyone training at a high level and Creatine5000™ provides that.
Payment & Security
Your payment information is processed securely. We do not store credit card details nor have access to your credit card information.