Description
CONTINOUSLY
FEED MUSCLES
WHILE YOU SLEEP & BETWEEN MEALS.
SUSTAINED-ABSORBING
100% MICELLAR CASEIN
TYPICAL AMOUNTS PER SERVING
WHY ELITE CASEIN?
Casein is a unique protein derived from milk that breaks down more slowly in the digestive system which increases satiety and provides a slower release of muscle-building amino acids. So if your goal is to build muscle or avoid muscle protein breakdown in between meals or during sleep, Elite Casein is an excellent protein choice.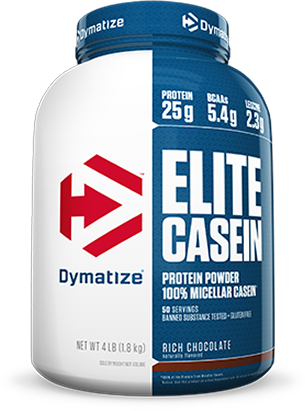 25g of high-quality 100% micellar casein per serving
5.54 of BCAAs proven to help build muscle and aid in recovery*
2.3g of Leucine to support the activation of Muscle Protein Synthesis*
AVAILABLE IN
4 INDULGENT FLAVORS
COOKIES & CREAM
RICH CHOCOLATE
CINNAMON BUN
SMOOTH VANILLA
Payment & Security
Your payment information is processed securely. We do not store credit card details nor have access to your credit card information.