Description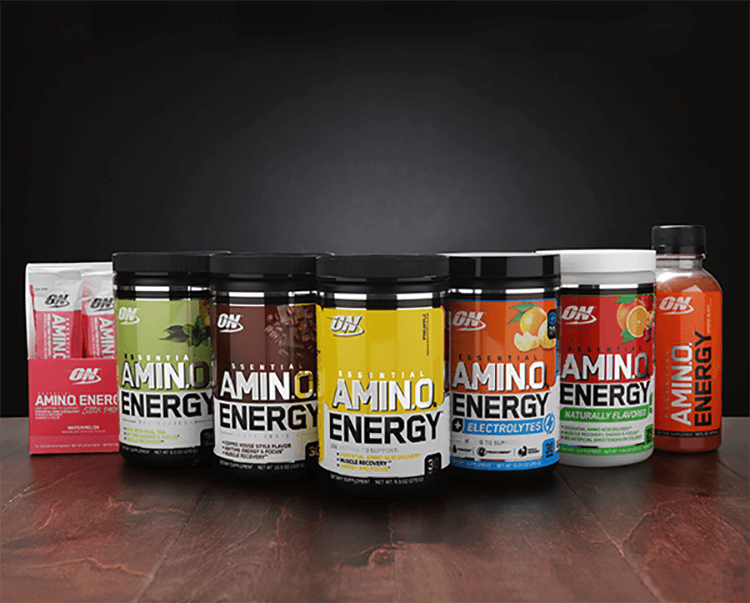 ALL VERSIONS OF ESSENTIAL AMIN.O. ENERGY™ OFFER:
100mg of Caffeine
5g of Amino Acids
5 - 15 Calories
Zero Sugar
ALL VERSIONS OF ESSENTIAL AMIN.O. ENERGY™ SUPPORT:
Essential Amino Acid Delivery
Energy & Focus Before, During and After Exercise or Anytime You Need a Pick Me Up*
Muscle Recovery After Exercise*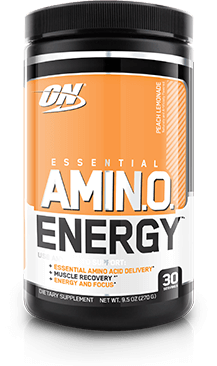 WHAT ARE AMINO ACIDS?
Protein is composed of amino acids. These building blocks perform numerous functions — including their role in building muscle size and strength.
WHAT IS CAFFEINE?
It is a stimulant most commonly found in tea, coffee and cacao plants. Caffeine helps provide an energy boost when needed during the day.
ESSENTIAL
AMIN.O. ENERGY +

 

ELECTROLYTES

™

 

PRODUCTS
ELECTROLYTE POWDER MIX
Fruit Flavored Powdered Mix
Replaces Electrolytes Lost in Sweat During Exercise
WHAT ARE ELECTROLYTES?
Healthy adults need minerals like potassium, sodium and magnesium. These electrolytes help support muscle function and fluid balance.* Electrolytes are lost when we sweat and can be replenished when you mix ESSENTIAL AMIN.O. ENERGY + ELECTROLYTES powder with at least 10 oz. of water.
BENEFITS:
Supports Performance by Offering Energy*, Focus*, Recovery* and Hydration†
Supports Endurance*
Supports Muscle Recovery*
† When added to at least 10oz of water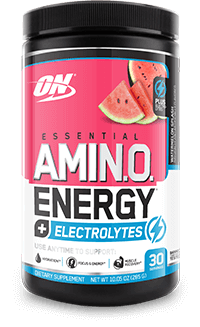 SPARKLING HYDRATION DRINK
Start fast and finish strong in the gym or on the field. ESSENTIAL AMIN.O. ENERGY + ELECTROLYTES™ Sparkling Hydration Drink offers a combination of 5 grams of Amino Acids, 100mg of Caffeine from natural sources and electrolytes to support performance, endurance and active living.
BENEFITS:
Replaces Electrolytes Lost in Sweat During Exercise
Supports Everyday Performance and Goals
Supports Endurance
OCCASION:
Anytime you need an energy boost
Pre-workout energy and hydration
Post-workout recovery and rehydration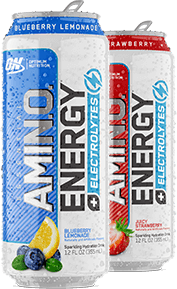 ESSENTIAL
AMIN.O. ENERGY

™
CAFÈ SERIES
Made with Coffee
Great Mixed Into

 

Cold Almond Milk
Great Coffee Taste, Without the Coffee House Price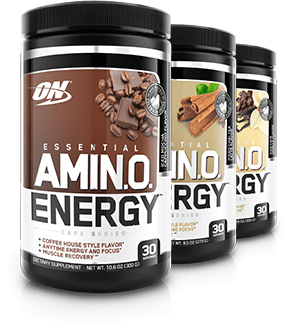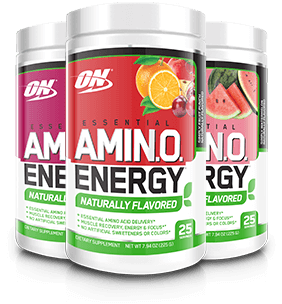 ESSENTIAL
AMIN.O. ENERGY

™
NATURALLY FLAVORED
Naturally Flavored
Sweetened with Stevia Leaf Extract
Colored with Fruit and Vegetable Extracts
No Artificial Sweeteners or Colors
ESSENTIAL
AMIN.O. ENERGY

™
TEA SERIES
Made with Real Tea in Classic Tea Flavors
100mg of Caffeine from Natural Sources
Supports Energy and Muscle Recovery*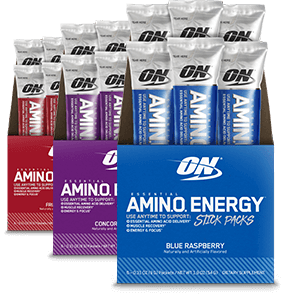 ESSENTIAL
AMIN.O. ENERGY

™
STICK PACKS
Portable Single Serving Stick Packets. Just Add to Your Water Bottle.
On-The-Go Energy
Sold in Boxes of 6 Packs
ESSENTIAL
AMIN.O. ENERGY

™
READY TO DRINK
Grab and Go Anytime Energy
Ready to Drink!
No Mixing Required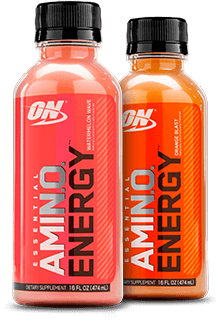 OPTIMUM NUTRITION TRUE STRENGTH
TRUE STRENGTH is a journey. It never rests, it never quits. It's about overcoming obstacles, accomplishing goals, and recognizing achievements. And then it resets to achieve again. As your trusted sports nutrition partner in goal achievement, ON demonstrates that same passion while crafting our products. From the raw materials we source to our state-of-the-art manufacturing processes, no compromises are made. You set the bar higher after every workout, we set the bar higher to redefine the industry standards and ensure you realize optimum results.
QUALITY
There are times when you want a hefty dose of caffeine for pre-workout performance*. But on other occasions, like first thing in the morning or a late afternoon pick-me-up, what you'd get from a cup of coffee is more appropriate. Essential Amin.o. Energy™ offers the best of both with a formula that delivers 100mg of caffeine from natural sources per 2-scoop serving. Decrease or increase the energy level as the occasion demands. Each serving provides 5 grams of micronized amino acids for muscle support.*
CONSISTENCY
OPTIMUM NUTRITION has been spotting the efforts of goal driven individuals since 1986. As one of the few companies to operate its own state-of-the-art manufacturing facilities that are GMP compliant, ON assures that every shake will mix up effortlessly because of its first-to-market instantization process. You also expect each shake to taste the same as the last and your next. That's the kind of consistency ON delivers.
HISTORY & HERITAGE
OPTIMUM NUTRITION is legendary for both quality and innovation. In addition to producing the world's best-selling whey protein, our Gold Standard 100% Casein™ introduced slow-digesting nighttime protein to the weight training world and ESSENTIAL AMIN.O. ENERGY™ created the anytime energy category in sports nutrition. When technology makes advancements possible, ON will be the company bringing it first to your shaker cup. 
What's in Optimum Nutrition Essential AmiN.O. Energy
Serving Size: 1 Packet (9 g)

Servings Per Container

6

Amount Per Serving

% Daily Value

Calories

10

      

Total Carbohydrate

2 g

1%*

Amino Blend

5

g

**

Micronized Taurine, Micronized L-Glutamine, Micronized L-Arginine, Micronized L-Leucine, Beta-Alanine (as CarnoSyn®), Micronized Citrulline, Micronized L-Isoleucine, Micronized L-Valine, Micronized L-Tyrosine, Micronized L-Histidine, Micronized L-Lysine Hydrochloride, Micronized L-Phenylalanine, Micronized L-Threonine, Micronized L-Methionine

Energy Blend‡▲

160

mg

**

Caffeine‡, Green Tea Extract (Camellia sinensis)(leaf), (standardized for Epigallocatechin gallate (EGCG)), Green Coffee Extract (bean)

* Percent Daily Values are based on a 2,000 calorie diet.

** Daily Value not established.

Other Ingredients:

Citric Acid

, Natural And Artificial Flavor

, Malic Acid

, Tartaric Acid

, Silicon Dioxide

, Calcium Silicate

, Caffeine (from Tea and/or Coffee Bean)

, Sucralose

, Gum Blend (Cellulose Gum

, Xanthan Gum

, Carrageenan)

, Soy Lecithin

, Blue #2

, Inulin.

CONTAINS: SOY.

‡ Total Caffeine from all sources is equal to 100mg per serving (1 packet)
Directions For Essential AmiN.O. Energy:
Mix two scoops of ESSENTIAL AMINO ENERGY in 10-12 oz of cold water.
FOR AN AMINO ACID BOOST: Consume one or more servings first thing in the morning and/or between meals.FOR PRE-WORKOUT ENERGY: Take 1-3 servings 20-30 minutes before training.FOR POST-WORKOUT RECOVERY: Take 1-2 servings immediately after training.
Do not exeed more than 5 servings per day.
TIPS: ESSENTIAL AMINO ENERGY contains 50 mg of caffeine per scoop, so do not consume after 5:00 PM if you have difficulty sleeping. ESSENTIAL AMINO ENERGY also contains beta-Alanine and may cause a temporary tingling sensation on your skin. This is normal. With continued use, the intensity of the sensation will decrease or disappear. Also, some people may have a sensitive stomach and will not tolerate green tea extract well on an empty stomach. If this is you, be sure to take with meals.
STICK PACKETS: BOTTLE OF WATER: Take a sip from a full 16.9 oz. bottle of water to make room for the powder. Add one packet of AMIN.O. ENERGY™ and shake bottle to mix well until powder dissolves.
Warnings: KEEP OUT OF REACH OF CHILDREN. Check with a qualified health care professional before taking this product if you are pregnant or nursing a baby, under 18 years of age, have any known or suspected medical conditions, and/or if you are taking any prescription or OTC medications. STICK PACKS: WARNING: Consult your physician before using this product if you are taking any medications or are under a physician's care for a medical condition. Not for use by those under the age of 18, women that are pregnant, or nursing, or those that are sensitive to caffeine or beta-alanine. Do not consume caffeine from other sources while taking this product as too much caffeine may cause nervousness, irritability, sleeplessness, and occasionally rapid heartbeat. Beta-Alanine may cause a harmless, temporary tingling or flushing sensation. Do not combine with alcohol. Do not exceed 3 packets within any 4 hour period or 5 packets within any 24 hour period. Consume as part of a healthy diet and exercise program, and drink at least 100 fl oz of water per day. Exercise may increase your need for fluid intake. Phenylketonurics: Contains Phenylalanine.
Payment & Security
Your payment information is processed securely. We do not store credit card details nor have access to your credit card information.