Description

INCREASE

YOUR PUMP!*
PERFORMANCE INSPIRED
EXPLOSIVE PRE-WORKOUT
New and Improved Formula – The Best Keeps Getting Better!
Build Stamina, Focus and Overall Energy Naturally...*

With our BEST-SELLING, all-natural Pre-Workout made with 500mg of Nitrosigine—a patented complex of bonded arginine and silicon that helps enhance nitric oxide levels!*

Nitrosigine combined with 2g of citrulline (along with our total formula) is super effective to fuel your workout, get you off the couch and ignite your overall energy levels for any fitness challenge.*


Our effective and proven Pre-Workout has 3g of arginine AKG, 2.5g of beta-alanine and 3g of creatine monohydrate. All of these add up to more than 12,000mg of active ingredients to give you the best workout possible!* In addition, the natural green tea extract provides the added caffeine kick to drive you even harder!*
You'll love our value packed, natural, gluten free formula and will never want to do without it once you see and feel the results!*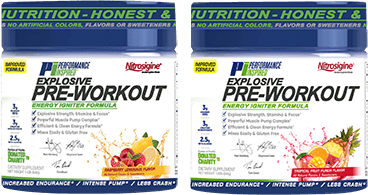 Payment & Security
Your payment information is processed securely. We do not store credit card details nor have access to your credit card information.