Description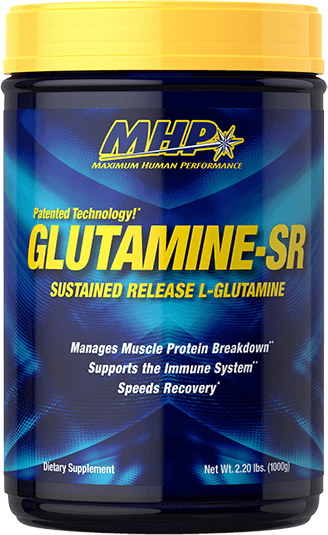 SUPPORTSMUSCLERECOVERY&PERFORMANCE*
Provides 1,000 mg Glutamine
Sustained Release Formula
Enhance Muscle Protein Synthesis*
Manage Muscle Protein Breakdown*
Speed Recovery*
Support the Immune System*
GLUTAMINE-SR 1000
Sports Muscle Recovery & Performance*
Only MHP has a Sustained Release Glutamine-SR which features a patented, sustained release technology to help support increased bio-availability and utilization of L-Glutamine. L-Glutamine on its own can be quickly broken down in your gut before it ever reaches your muscles. To help improve glutamine absorption, MHP's Glutamine-SR features a patented, sustained release technology to help support increased bio-availability and utilization of L-Glutamine by providing a controlled steady supply so you can get the most of our your glutamine supplement.*
MHP's Glutamine-SR 1000 provides a potent dosage of Glutamine, which is the most abundant amino acid in the body, and is used by your gut, immune system and muscles for fuel. Glutamine-SR's patented sustained release technology allows for superior absorption and the continual feed of the critical amino acid glutamine.* High intensity exercise and strict dieting can deplete glutamine concentrations. Glutamine supplementation helps replenish glutamine stores, which enhances the immune system, speeds recovery, and boosts muscle protein synthesis.*
#MHPSTRONG
What's in MHP Glutamine-SR
1000 Grams

Unflavored

Serving Size: 1 Scoop (6 g)

Servings Per Container: Approximately

167

Amount Per Serving

% Daily Value

Total Carbohydrate

1 g

<1%†

L-Glutamine

5

g

‡

Mhp Glutamine-Sr Micro-Feed Technology

1

g

‡

Low DE Glucose Polymers, MicroTex Hydrogenated Soybean Oil, Soy Lecithin

† Percent Daily Values are based on a 2000 calorie diet

‡ Daily Value not established

Contains: Soy.
Directions For Glutamine-SR: Mix 1 scoop with 8-10 fl. oz. of water or your favorite beverage. Take 1-2 times daily 30-40 minutes before workouts and/or immediately after workouts. GLUTAMINE-SR can also be added to your protein or meal replacement supplement. 
Warnings: Keep out of reach of children. Store in a cool, dry place. Protect from heat, light and moisture. Do not purchase if seal is broken.
Payment & Security
Your payment information is processed securely. We do not store credit card details nor have access to your credit card information.