Description
GOLD STANDARD PRE-WORKOUT ADVANCED is an intense, dialed up version of our core pre-workout powder. It's designed to help you unleash intense energy, pumps and performance so you can reach the pinnacle of your game and crush your next set.
PRODUCT BENEFITS
300 mg of Caffeine from Natural Sources Per Serving
6 Grams of L-Citrulline Per Serving
5 Grams of Creatine Monohydrate per Serving
650 mg Electrolyte Blend for Hydration Support (when taken with at least 10 fluid ounces of water)
222% of the Daily Value for Vitamin C per Serving
Includes 3 great flavors: Strawberry Mango Daiquiri, Berry Blast, Raspberry Lime Mojito.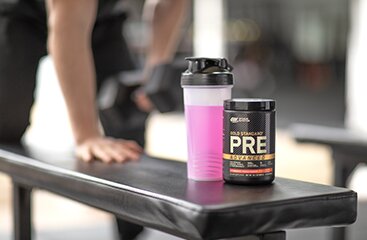 SUPPORTS YOUR GOALS
Supports focus and energy
Supports strength training & sport performance
Designed for the goal-focused athlete that competes beyond the gym and extends activity into competitive events, sports and performance.
Made for the evolved athlete looking to push through an agenda driven with immense activity.
GOOD TO KNOW
Make the most of your activity with intense energy, but be mindful of your caffeine tolerance. Note that caffeine takes about one hour to peak in your body after consumption. Best if used about an hour before activity.
When taken consistently over time along with regular exercise, beta-alanine can help support muscle endurance (and/ or help you train harder and longer). The most common side-effect is a tingling sensation. Note this does not equate to performance. Not everyone will feel the tingling sensation. Some may feel nothing while others may have an intense sensation. The tingling sensation goes away over time.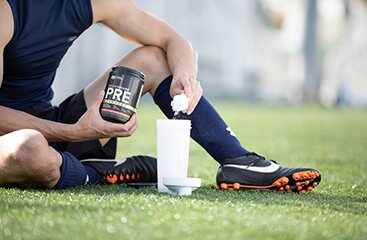 ABOUT THE BRAND
Optimum Nutrition has been trusted to provide the highest quality in post-workout recovery, pre-workout energy, and on-the-go sports nutrition for over 30 years and in 90+countries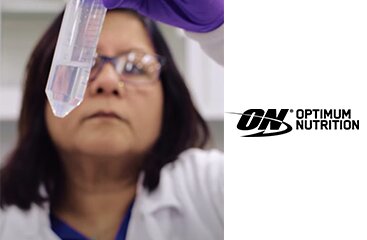 What's in Optimum Nutrition Gold Standard Pre Advanced
20 Servings

Raspberry Lime Mojito

SUPPLEMENT FACTS

Serving Size 20g (About 1 Scoop)

Servings Per Container

20

Amount Per Serving

% Daily Value

Calories

5

      

Total Carbohydrate

1 g

<1%*

Vitamin C (As Ascorbic Acid)

200 mg

222%

Vitamin D (As Cholecalciferol)

10 mcg

50%

Calcium

30 mg

2%

Magnesium

100 mg

24%

Sodium

100 mg

4%

Micronized L-Citrulline

6 g

**

Creatine Monohydrate

5 g

**

Beta-Alanine

3.2 g

**

Creatine Nitrate (NO3-T®)

1.2 g

**

Caffeine‡

300 mg

**

Electrolyte Blend

650

mg

      

Sodium Citrate, Magnesium Oxide, Potassium Chloride

*Percent Daily Values are based on a 2,000 calorie diet.

**Daily Value not established.

Ingredients

Natural And Artificial Flavor

, Citric Acid

, Malic Acid

, Calcium Silicate

, Silicon Dioxide

, Sucralose

, Red 40
Directions For Gold Standard Pre Advanced: Mix 20 G (About 1 Scoop) in 6-8 oz. of water and consume 15-30 minutes before working out.
Warnings: Consult your physician before using this product if you are taking any medications or are under a physicians care for a medical condition. Not for use by those under the age of 18, women who are pregnant, trying to get pregnant, or are nursing, or those who are sensative to caffeine or beta-alanine. Do not consume caffeine from other sources while taking this product as too much caffeine may cause nervousness, irratability, sleeplessness, and occationally rapid heart beat. Beta-alanine may cause a harmless, temporary tingling or flushing sensation. Do not combine with alcohol. Consume as part of a healthy diet and exercise program, and drink at least 100 Fl oz of water per day. Exercise may increase your need for fluid intake.
Payment & Security
Your payment information is processed securely. We do not store credit card details nor have access to your credit card information.