Description
Ketogenic Energy Drink

BHBs • MCTs • Aminos • L-Carnitine
Boosts Ketone Levels*
Natural Energy from C8/C10 MCTs*
Supports Body Fat Reduction*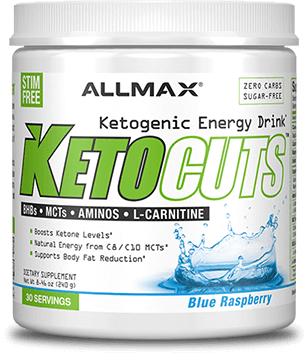 THE KETOGENIC KICKSTARTER
The perfect addition to any Keto or low-carb diet, ALLMAX introduces all-new KETOCUTS! Formulated for the ketogenic athlete to help kick-start ketosis and provide energy.* KETOCUTS includes everything a Ketogenic dieter wants from effective BHB Exogenous Ketones to quality MCTs, this Ketogenic Energy Drink will increase your ketone levels, boost your energy and help support body fat reduction.*
Zero Carbs, Sugar-Free & Stim-Free
Refreshing, Delicious & Easy-to-Mix
KETOCUTS helps you achieve a state of ketosis that flips the switch in your body to start using fatty acids as the main source of energy instead of carbs. Once you've achieved ketosis, KETOCUTS provides extra energy and improves cognitive function.* KETOCUTS also contains C8 and C10 MCTs as a natural energy source, L-Carnitine L-Tartrate to support body fat reduction, and amino acids for maintaining lean muscle gains.*

KETOCUTS also contains vital electrolytes that any Ketogenic dieter knows is essential for the body to function at peak performance. After an intense workout it's important to fuel the body with Sodium and Magnesium for proper muscle function.* They also help stimulate the enzymes that metabolize ketones.* To further support recovery KETOCUTS has a solid dose of BCAAs and essential amino acids.
With two delicious and refreshing flavors to choose from KETOCUTS makes it easy to help boost your Ketogenic game!
Serving Size 1 Scoop (8 g)

Servings Per Container

30

Amount Per Serving

% DV

Calories

20

      

Total Fat

.5 g

<1%∆

Saturated Fat

.5 g

3%∆

Total Carbohydrate

0 mg

0%∆

Calcium (as Calcium Silicate)

24 mg

2%

Magnesium

85 mg

20%

Sodium

190 mg

8%

Exogenous Ketone Blend

2,000 mg †

Sodium Beta-Hydroxybutyrate

      

Magnesium Beta-Hydroxybutyrate

      

Amino Blend

1,670

mg

†

L-Glutamine, L-Alanine, L-Lysine HCl, L-Histidine HCl, L-Phenylalanine, L-Threonine

MCT Energy Blend (Std. to 70%)

750 mg †

C8 Medium Chain Triglycerides

      

C10 Medium Chain Triglycerides

      

BCAA (9:6:5) Blend

750

mg

†

L-Leucine, L-Valine, L-Isoleucine

L-Carnitine L-Tartrate

500 mg

†

Percent Daily Value based on a 2,000 calorie diet.

† Daily Value (DV) not established.

Other Ingredients:

Citric Acid

, Natural and Artificial Flavors

, Sodium Caseinate (Milk)

, Sucralose

, Calcium Silicate

, Acesulfame Potassium

, Silica

, Lecithin (from Sunflower)

, FD&C Blue #1.

CONTAINS: Milk, Coconut.

ALLERGEN WARNING: Produced in a facility that also handles Soy, Egg, Tree Nut, Peanuts, Fish and Shellfish products.
Directions For KetoCuts: Enjoy 1-2 scoops of KetoCuts™ any time of day. For each rounded scoop (8 g), add 180-240 mL (6-8 oz) of water. Works best after a meal in the morning and evening and 20-30 minutes before a workout. 
Warnings: Not for use by individuals under the age of 18 years. Ensure you drink enough fluid before, during, and after exercise. Consult a health care practitioner, you are pregnant or breastfeeding, you have any known or suspected medical conditions, you are taking any prescription or OTC medications, or you experience any adverse reactions. Do not use if inner seal is broken. Store in a cool, dry place and keep out of direct sunlight. Keep out of reach of children.
Payment & Security
Your payment information is processed securely. We do not store credit card details nor have access to your credit card information.