Description
20X RESEARCH-PROVEN
Features 20 key research-proven ingredients: Citrulline Malate, Beta-Alanine, Arginine, Taurine, Tyrosine, 5 Energizing B Vitamins, 400mg of Caffeine/Polyphenols per serving... and more
5-CAFFEINE BLEND
5 Caffeine + Polyphenol/EGCG Matrix
5 CAFFEINE + POLYPHENOL/EGCG MATRIX
Each serving delivers the same caffeine as 4.5 cans of the leading 8 fl oz energy drink
100% AMPLIFIED
Includes 100% dose of multi-patented bioavailability enhancer BioPerine®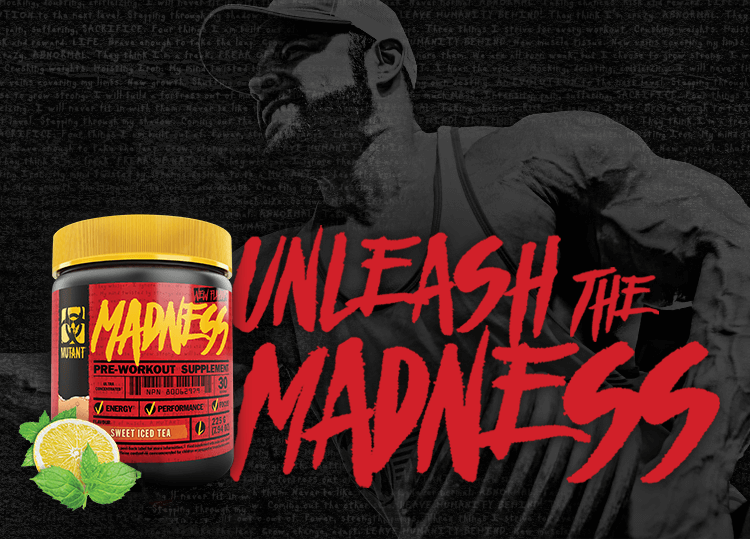 30 CONCENTRATED SERVINGS
20 RESEARCHED INGREDIENTS
0 SUGARS
400 MG CAFFEINE & CAFFEINE EXTENDERS
0 HIDDEN INGREDIENTS


ADVANTAGES
MUTANT MADNESS
Seizes the pre-workout experience, and launches it into the stratosphere! This extra premium formula will jolt your senses and help fight fatigue.* Crazy pumps, razor sharp focus, and blistering intensity await you.*
MORE THAN JUST CAFFEINE ALONE
MUTANT® MADNESS contains key drivers such caffeine, beta-alanine, citrulline, and arginine. However, it ALSO harnesses the added polyphenols from green tea and green coffee bean to help 'extend' the caffeine effect.* With an array of 20 researched ingredients including the multi-patented absorption agent BioPerine®, MUTANT® MADNESS is a truly serious experience!*
What's in MUTANT Madness
50 Servings

Pineapple Passion

Serving Size: 1 Scoop (7.5g)

Servings Per Container: 30

Amount Per Serving

% Daily Value

Calories

5

      

Total Carbohydrate

1 g

<1%*

Niacin (as Niacinamide, Niacin)

30 mg

188%

Vitamin B6 (as Pyridoxine HCL)

6 mg

353%

Folate (as Folic Acid)

400 mcg

100%

Vitamin B12 (as Methylcobalamin)

30 mcg

1,250%

Calcium (as Calcium Carbonate, Tricalcium Phosphate)

40 mg

3%

Sodium (as Sodium Chloride)

30 mg

1%

MUTANT® MADNESS FORMULA

4915mg **

Performance Intensity Matrix

4350mg **

L-Citrulline Malate/L-Arginine HCL 2:1 Blend

1,500 mg

**

Beta-Alanine Instantized CarnoSyn® Brand

1,250 mg

**

Taurine/L-Tyrosine 2:1 Blend

1,000 mg

**

Malic-Citric Acid Blend

600 mg

**

5-Caffeine Matrix

500mg **

Caffeine Anhydrous

300 mg

**

DiCaffeine Malate

80 mg

**

Caffeine Citrate

40 mg

**

Theobromine Extract (6% Theobromine)(Theobroma cacao)(seed)

40 mg

**

Green Tea Extract (Camellia sinensis)(source of Polyphenols, EGCG)

40 mg

**

Amplification Matrix

65mg **

L-Theanine

30 mg

**

Olive Leaf Extract (Olea europaea)(20% oleuropein)

20 mg

**

Cinnamon Extract

10 mg

**

BioPerine® Black Pepper Extract (Piper nigrum)(fruit)(98% Piperine)

5 mg

**

* Percent Daily Values based on a 2,000 calorie diet

** Daily Value not established

OTHER INGREDIENTS:

Waxy Maize (Waxy Corn) Starch (For Anti-Clumping)

, Rice Starch

, Natural & Artificial Flavors

, Less than 2% of each of the following: Sucralose

, Potassium Citrate

, Silicon Dioxide

, MCT Oil (Fractionated Coconut Oil)

, Tricalcium Phosphate

, Magnesium Oxide

, Salt

, Colors (Calcium Carbonate

, Beta-Carotene

, Red Beet Powder)

, Rebaudioside-A (from Stevia Leaf Extract).

Contains: Tree nut (coconut). (Total net caffeine: 375mg/serving)
Directions For Madness: As a dietary supplement for healthy adults performing high intensity exercise, experienced and comfortable with high caffeine products, add ½ to 1 level scoop to 8 fl oz (240ml) of cold water, shake 5-10 seconds, and slam it back 30 minutes prior to workouts. First time users should try ½ scoop first to assess tolerance. Read, understand and follow the entire Warning before choosing to use. Do not consume within 4 hours prior to bedtime. Never exceed 2 servings per 24 hours.
Warnings: This product may not be appropriate for you. High caffeine content. Not recommended for children or pregnant or breast-feeding women. For use by healthy adults only, accustomed to and comfortable with high caffeine content products. Use at your sole risk. Never exceed suggested use. For occasional use only. Ensure to drink enough fluid before, during, and after exercise. Consult a health care practitioner prior to use: if you are taking lithium; if you have or your family has a history of high blood pressure, cardiovascular disease, glaucoma, depression or any mental illness or issues, prostate/urinary diseases, renal/kidney diseases; if you are attempting to increase physical activity; if you are taking any medication at all and especially if for cardiovascular diseases, erectile dysfunction, and/or blood thinners. Do not use if you have had a heart attack/myocardial infarction. Consumption with other stimulant containing foods, drinks, dietary supplements (e.g. including but not limited to bitter orange extract, synephrine, octopamine, ephedra), other drugs (e.g. ephedrine) which increase blood pressure, or with other caffeine-containing products (e.g. medications, coffee, tea, colas, cocoa, guarana, maté) is not recommended. Beta-alanine and niacin can cause a temporary flushing, tingling sensation of the skin. This product is not intended as a substitute for sleep. If hypersensitivity, chest pain or allergy occurs, discontinue use and consult a health care practitioner. This product is intended to be used to supplement the diet; not to be used as a substitute for a varied diet. A varied and balanced diet and healthy lifestyle are essential for good health. Do not use if packaging has been tampered with. Mutant Madness has not been clinically studied - statements are based on corresponding individual ingredient's known and/or typical claims and warnings. Packed by weight, not by volume. Settling of product occurs after filling. Do not consume silica packet. User assumes all liability & risk. KEEP OUT OF REACH OF CHILDREN. STORE IN A COOL, DRY PLACE.
Payment & Security
Your payment information is processed securely. We do not store credit card details nor have access to your credit card information.