Description
Proudly supports first responders & nurses with Bodybuilding.com and ID.me.
Verify Here
Staying anabolic and reducing muscle-wasting is the name of the game when it comes to building and preserving lean muscle mass. NutraBio Micellar Casein provides a sustained release of amino acids into the system over the span of several hours. Great for use between meals to stay satiated or even before bed as an ultimate nighttime protein source.
PRODUCT BENEFITS
100% micellar casein*
Promotes muscle growth*
Prevents muscle breakdown*
Supports workout recovery*
Helps you feel full and satiated*
Helps you meet your daily protein requirements
KEY INGREDIENTS
NutraBio Micellar Casein has a slow absorption rate into the bloodstream, which allows for a steady release of amino acids into the muscle cells and provides you with the ability to stay anabolic over the span of 4-6 hours. This complete protein possesses all of the essential amino acids necessary to promote muscle growth and recovery by ensuring positive nitrogen retention in the muscles for much longer than a standard whey protein.* 5g of BCAAs and 5g of Glutamine are also added to the profile.
SUPPORTS YOUR GOALS
If building lean muscle mass is your goal, you need to fuel your body with what it demands in order to grow. NutraBio Micellar Casein is the perfect option when looking to take your muscle-building efforts to the next level.* Micellar casein is also the ultimate anti-catabolic and muscle-protecting supplement that can help preserve your lean mass when dieting and in a caloric deficit as well as helping to build muscle when bulking.*
GOOD TO KNOW
Micellar casein is PH sensitive, which causes them to thicken in the stomach and form a gel-like consistency. In doing so, it drastically slows down digestion and allows for a steady release of nutrients and amino acids for several hours after ingestion. The ultra-filtration process used to extract the source of casein helps increase the bioactive milk peptides that play a role in immune health and muscle growth.*
ABOUT THE BRAND
At NutraBio, we don't compromise, and neither should you when it comes to the supplements and brand you use and support. We've made a commitment to you to produce the purest, cleanest, and most effective supplements on the market. To ensure you of our commitment we launched a website called Checkmysupps.com which hosts independent 3rd-party lab test results of all our products. You might ask why don't all supplement companies do this? The answer is simple at NutraBio we have nothing to hide!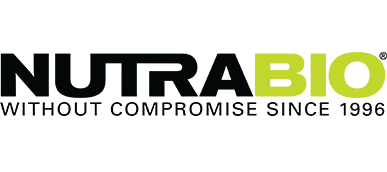 SUPPLEMENT FACTS

Serving Size: 1 scoop (33.83 g))

Servings Per Container

26.8

Amount Per Serving

% Daily Value

Calories

120

      

Total Fat

1 g

1%*

Cholesterol

15 mg

5%*

Total Carbohydrate

2 g

<1%*

Dietary Fiber <1g

2%*

Sugars

1 g

†

Protein

25 g

50%*

Calcium

731 mg

70%*

Phosphorus

321 mg

30%*

Iron

571 mcg

4%*

Sodium

80 mg

4%*

Potassium

120 mg

4%*

Micellar Casein

31.65 g

†

(Yielding 25 g complete protein per serving. Instantized with sunflower lecithin.)

* Percent Daily Values are based on a 2,000 calorie diet.

† Daily Value not established.

Ingredients:

Flavoring (natural cocoa powder 1.2 g, natural flavor 700 mg, salt 110 mg, xanthan gum 100 mg, sucralose 70 mg).

Contains: Milk.
Directions For Micellar Casein: Take NutraBio Casein before bed, between meals or any time slow digesting protein is desired. Add 1 scoop with 8 ounces of cold water or your favorite beverage to a shaker cup or blender and mix for 25-30 seconds. Vary the amount of liquid to meet your desired taste and consistency. Use nonfat milk for a thicker, creamier shake.
Warnings: This product is intended as a dietary supplement only. Do not use as a sole source of nutrition.THIS PRODUCT IS SOLD BY WEIGHT, NOT VOLUME. SOME SETTLING OF CONTENTS MAY HAVE OCCURRED DURING THE SHIPPING AND HANDLING. STORE IN A COOL DRY PLACE. SERVING SCOOP INCLUDED (MAY SETTLE TO THE BOTTOM DURING SHIPPING.)
Payment & Security
Your payment information is processed securely. We do not store credit card details nor have access to your credit card information.