Description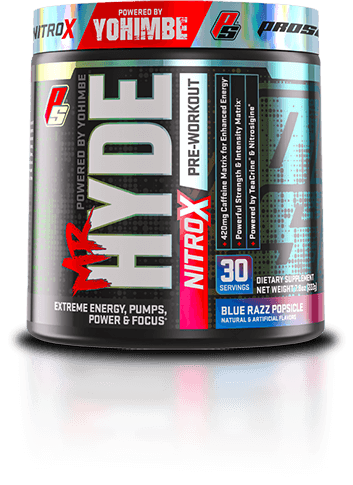 BREAK DOWN BARRIERS WITH
EXTREME ENERGY & POWER
Mr. Hyde® NitroX is an energy earthquake with double the energy of the leading pre-workout supplements.* ProSupps® unique formula features a 420mg caffeine matrix, plus a powerful combination of Yohimbe, TeaCrine®, Beta Alanine, Creatine and Nitrosigine®. One scoop of this extreme pre-workout formula delivers intense, sustained energy and focus with increased power, strength, endurance and maximized pumps.* Perfect for men and women who are looking for the ultimate in premium pre-workout powder energy drinks.*
What is Mr. Hyde®
 

NitroX?

Mr. Hyde® NitroX is way more than just another pre-workout supplement. Formulated to be the complete training solution, Mr. Hyde® NitroX takes you to a whole new level. With scientifically researched ingredients to promote pumps, vascularity, strength, mental focus, sustained energy, and motivation, Mr. Hyde® NitroX leaves no stone unturned in the pre-workout checklist.* Don't settle for just any energy pre-workout; leave no doubt with Mr. Hyde® NitroX.
What is the difference between Mr. Hyde®
 

NitroX and Mr. Hyde®

 

Signature?

While both are a great choice, Mr. Hyde® Signature was designed as a performance, versatile extreme energy pre-workout supplement that is Informed Choice® certified, banned substance tested, while Mr. Hyde® NitroX was crafted towards the 'hardcore gym rat' or advanced pre-workout user.* Both deliver a research-supported emphasis on improving performance in strength, endurance and energy.* No matter which you choose, you'll transform your workouts from ordinary to extreme with the power or Mr. Hyde® NitroX.*
What is the difference between Mr. Hyde®
 

NitroX & Dr. Jekyll®

 

Stim-Free?

Both Mr. Hyde® NitroX and Dr. Jekyll® Stim-Free were formulated for the ultimate pre-workout experience designed to maximize training capacity and performance.* The difference is that Mr. Hyde® NitroX was designed with an emphasis for those looking to achieve extreme energy and focus and features a powerful stimulant blend.* It features the revolutionary ingredients Nitrosigine® for increased and sustained blood flow and TeaCrine® for sustained energy and focus.* Dr. Jekyll Stim-Free on the other hand was designed as a stim-free approach with emphasis on supporting increased blood flow for maximum pump & muscle volume.* With zero caffeine, we added creatine hydrochloride and beta alanine for sustained endurance, plus afromomum melegueta for intense thermogenic burn, so you get the perfect all-around pre-workout for anyone looking to maximize their performance and focus.*

 

What's in Pro Supps Mr. Hyde NitroX
12 - 7.5 Oz. Bottles

What-o-Melon

Serving Size: 1 Serving 7.5g Fl. Oz. (212 ml)

Servings Per Container: 12

Amount Per Serving

%DV

Niacin

25 mg

156%

Strength Matrix

4.5g

Beta Alanine (CarnoSyn®)

2.5 g

**

Creatine Nitrate (NO3-T®)

1 g

**

Arginine Silicate (Nitrosigine®)

500 mg

**

L-Citrulline Aspartate

500 mg

**

Caffeine Matrix

420mg

Caffeine Anhydrous

300 mg

**

Di-Caffeine Malate

70 mg

**

Caffeine Citric Acid Blend

50mg **

Citric Acid

**

Caffeine Anhydrous

**

Intensity Matrix

653mg

Choline Bitartrate

500 mg

**

Theanine

50 mg

**

N-Acetyl Tyrosine

50 mg

**

Theacrine (TeaCrine®)

25 mg

**

Gamma-aminobutyric Acid (GABA)

25 mg

**

Yohimbe Bark Extract

3 mg

**

* Percent Daily Values are based on a 2,000 calorie diet.

** Daily Value not established.

† Actual Caffeine Content is 378mg per serving

Other Ingredients:

Triple Filtered Water

, Natural and Artificial Flavors

, Soluble Corn Fiber

, Sucralose

, Calcium Silicate

, Malic Acid

, Potassium Sorbate

, Sodium Benzoate

, Citric Acid

, Acesulfame Potassium

, FD&C Red #40.

Contains 0% Juice

Manufactured in a facility that processes milk, egg. soy, wheat, and shellfish.
Directions For Mr. Hyde NitroX: To assess tolerance mix ½ scoop of Mr. Hyde® with 8 oz of cold water. Once tolerance has been assessed, mix 1 scoop of Mr. Hyde® with 8 oz of cold water and consume 15 to 30 minutes before exercise. Do not consume Mr. Hyde® within 4 hours of bedtime. Do not take any other products that contain caeine or any other stimulants while taking Mr. Hyde®. Shake container well before use.
Warnings: Mr Hyde™ NitroX is for advanced exercise and supplement users only. Do not exceed one serving in a 24 hour period.
This product is intended for healthy adults, 18 years of age or older. Consult a physician prior to using this, or any other dietary supplement. Do not take this product if you are pregnant or nursing, if you have or suspect you may have a medical condition, or if you are taking any prescription or over-the-counter medications. Do not exceed recommended serving. Exceeding recommended serving may cause adverse health effects. This product contains 378mg of caffeine, the equivalent of approximately 4 cups of coffee and may not be suitable for individuals who are sensitive to the effects of caffeine. Too much caffeine may cause nervousness, irritability, sleeplessness, and occasional rapid heartbeat. Immediately discontinue use and consult a qualified medical professional if you experience any adverse effects. KEEP OUT OF REACH OF CHILDREN.
Payment & Security
Your payment information is processed securely. We do not store credit card details nor have access to your credit card information.