Description
MUSHROOM
SUPER STACK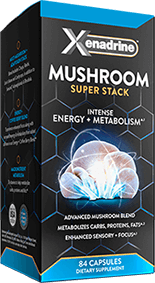 Enhanced Sensory, Energy and Focus1*
Advanced Mushroom Blend
Metabolizes Carbs, Proteins and Fats2*
1 Contains caffeine to enhance energy.
2 Contains B vitamins to help metabolize proteins, carbs and fats.
A UNIQUE BLEND OF
MUSHROOMS
The one-of-a-kind formula offers a unique mushroom blend; plus it also contains caffeine for enhanced focus and powerful energy to start your day off with a bang. The mushroom blend contains Lion's Mane, Cordyceps, Reishi, Chaga mycelium and fruitbodies harvested by experienced mycologists with 60 years of mushroom growing experience.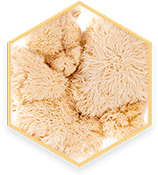 LION'S MANE
Our growers can consistently pinpoint the precise time to harvest each species for optimal efficacy.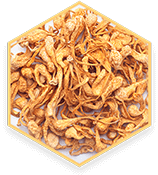 CORDYCEPS
Grown using solid-state fermentation methodologies, our Cordyceps includes mycelial biomass.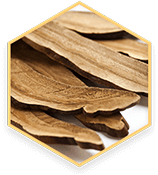 REISHI
Traditionally revered ingredient with bioactive compounds.
CHAGA MYCELIUM
Delivers powerful beta glucans and high in Vitamin B that supports energy production.
INTENSE

ENERGY & METABOLISM*

The Multi-Mushroom Super Stack offers enhanced focus and energy from added caffeine in our Energy + Coffee Berry Blend. It also includes Rhodiola and Sensoril Ashwagandha.*
Serving Size 3 Capsules

Servings Per Container

28

Amount Per Serving

% Daily Value

Total Carbohydrate

1 g

<1%*

Vitamin D (as ergocalciferol)

5 mcg

25%

Niacin (as niacinamide)

4 mg

25%

Vitamin B6 (as pyridoxine hydrochloride)

.4 mg

24%

Vitamin B12 (as cyanocobalamin)

.6 mcg

25%

Multi-Mushroom + Adaptogen Stack Blend

1.96g †

Organic Lion's Mane (as Hericium erinaceus) (fruiting bodies)

800 mg

†

Organic Cordyceps (as Cordyceps sinensis) (fruiting bodies)

500 mg

†

Organic Chaga (as Inonotus obliquus) (fruiting bodies)

250 mg

†

Organic Reishi (as Ganoderma lucidum) (fruiting bodies)

250 mg

†

Sensoril ® Ashwagandha extract (as Withania somnifera) (root and leaf

125 mg

†

Standardized to withanolides

      

L-theanine

†

Rhodiola extract (as Rhodiola rosea) (root)

†

Standardized to rosavins and salidrosides

      

Energy + Coffee Berry Blend

102mg †

Coffee extract (as Coffea robusta) (bean)

†

Standardized to 98% caffeine

      

Organic coffee extract (as Coffea arabica) (berry)

†

Standardized to 70% caffeine

      

Total caffeine (from Coffea robusta and Coffea arabica

100 mg

†

* Percent Daily Values based on a 2,000 calorie diet.

† Daily Value not established.

Other Ingredients:

Capsule (Hypromellose

, Titanium Dioxide

, Carrageenan

, Potassium Chloride)

, Silicon Dioxide

, Rice Hull.
Directions For Mushroom Super Stack: Take 1 serving (3 capsules) once daily. Drink 8 to 10 glasses of water daily for general good health.
Warnings: Read the entire label before use and follow directions provided. For adult use only. Do not use if pregnant or nursing. Discontinue use and consult a medical doctor if you experience unusual symptoms. Consult a medical doctor before use if you have been treated for, diagnosed with or have a family history of any medical condition, or if you are using any prescription or over-the-counter drug(s). Consult a medical doctor before starting any diet or exercise program. Do not exceed recommended serving. Improper use of this product will not improve results and is not advised. Use only as directed. One serving (3 capsules) of this product contains up to as much caffeine as 1 cup of coffee. Caffeine-sensitive individuals may experience symptoms including (but not limited to) restlessness, nervousness, tremrs, anxiety, increased heart rate or difficulty sleeping. KEEP OUT OF REACH OF CHILDREN. Do not use if packaging has been tampered with. Store in a cool, dry place (60°F to 80°F).
Payment & Security
Your payment information is processed securely. We do not store credit card details nor have access to your credit card information.