Description

NATURALLY SWEETENED ELITE PRE-WORKOUT
Fast Twitch Muscle Fiber Activation*
Improved Athletic Performance*
Advanced Natural Hydration Blend*
Zero Artificial Sweeteners
Natural Pre is our pre-workout, formulated and dosed with innovative and natural cutting edge ingredients designed to fuel your body and take your workouts to the next level! Our natural blend of polyphenols and organic caffeine sources is scientifically formulated to rapidly activate and prime the central nervous system, enhancing fast twitch muscle fibers for an intense workout. Our advanced hydration blend nourishes and fuels your body, significantly enhancing your endurance and recovery.*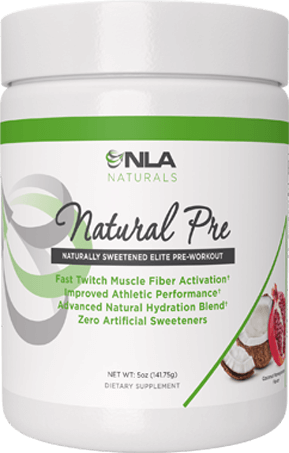 ORGANIC CAFFEINE:
Research shows that consuming caffeine can increase muscle strength, improve muscle endurance, and decrease muscle fatigue during workouts.*

ORGANIC YERBA MATTE AND GREEN TEA EXTRACT:
Provides smooth, sustained energy, boosts mental function, and supports the immune system.*

ORGANIC BEET ROOT EXTRACT:
Rich source of natural nitrates that convert to nitric oxide. Research suggests beet juice root powder improves blood flow to working muscle and the brain, enhancing training intensity, endurance, and focus throughout your entire workout.*

COCOGANIC:
Organic freeze dried coconut water powder loaded with natural key electrolytes to ensure that you stay hydrated.*
S7:
Patented dose of 7 plant-based ingredients that have been clinically proven to increase nitric oxide by 230%, improving endurance and "the pump" during your workouts.*



What's in NLA Naturals Natural Pre-Workout
25 Servings

Coconut Pomegranate

Serving Size 1 scoop (5.7g/0.2oz)

Servings Per Container

25

Amount Per Serving

%DV

Calories

5

      

Total Carbohydrate

1 g

0%*

Vitamin B6 (from Pyridoxal 5-Phosphate)

5 mg

294%

Vitamin B12 (from Methylcobalamin)

50 mcg

2,083%

Potassium

55 mg

1%

L-Citrulline

1,500 mg

**

Betaine (Trimethylglycine)

1,000 mg

**

Caffeine (PurCaf ™)(Organic)

220 mg

**

L-Theanine

200 mg

**

Coconut Water Freeze Dried (Organic) (CocOganic™)

125 mg

**

Green Coffee Bean Extract, Green Tea Extract, Turmeric Extract, Tart Cherry, Blueberry, Broccoli, Kale (S7™)

50 mg

**

Green Tea (Camellia sinensis) Powder (NLT 90% Polyphenols, 60% Cat) Extract (Organic)

10 mg

**

Black Pepper (Piper nigrum) Fruit Extract (BioPerine®)

5 mg

**

Alpha GPC (Glycerylphosphorylcholine)

2 mg

**

Rauwolscine (Alpha Yohimbine 90%)

2 mg

**

* Percent Daily Value based on a 2,000 calorie diet.

** %Daily Value (DV) not established.

Other Ingredients:

Natural Flavors

, Malic Acid

, Citric Acid

, Beet Juice (Beta vulgaris) Root Powder (Organic)

, Stevia Rebaudioside A Leaf Extract

, Monk Fruit Extract

CONTAINS: Tree Nuts (Coconut)
Directions For Natural Pre-Workout: As a dietary supplement, mix 1 scoop (5.7 grams) with 4-8 ounces of cold water and consume 20-30 minutes before beginning activity. This is to be done the first (3) times using "Natural Pre". Under no circumstances should any of the warnings be ignored. Beginning with the 3rd time using Natural Pre, dose may be increased by, but not more than, 1/2 of a scoop (1.9 grams). The ideal individual dose may vary between 1-2 scoops.
Warnings: Pregnant or nursing mothers, children under the age of 18 and the elderly and individuals with a known medical condition should consult a physician before using this or any dietary supplement. KEEP OUT OF THE REACH OF CHILDREN. DO NOT USE IF SAFETY SEAL IS DAMAGED OR MISSING. STORE IN A COOL DRY PLACE.
Payment & Security
Your payment information is processed securely. We do not store credit card details nor have access to your credit card information.