Description




HYPEREMIA & TESTOSTERONE ENHANCING POWDER*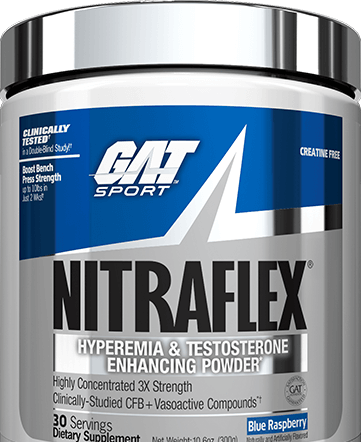 HIGH INTENSITY
PRE-TRAINING FORMULA
FORMULA ADVANTAGES
SINGLE SCOOP POTENCY
NITRAFLEX is a clinically tested, high-intensity pre-training formula that has potent ingredients to help magnify energy, alertness, strength, stamina, pumps and during workouts.*
Nitraflex pre-workout delivers fast, explosive training results for a more powerful body, including energy, stamina, Nitric Oxide (NO) and supports testosterone levels already within healthy range.* It contains proven muscle building L-Citrulline malate, L-Arginine, L-Arginine Alpha-ketoglutarate (AKG) amino acids and Calcium Fructoborate (CFB), a natural, high potency form of Boron which has been shown to support free testosterone.*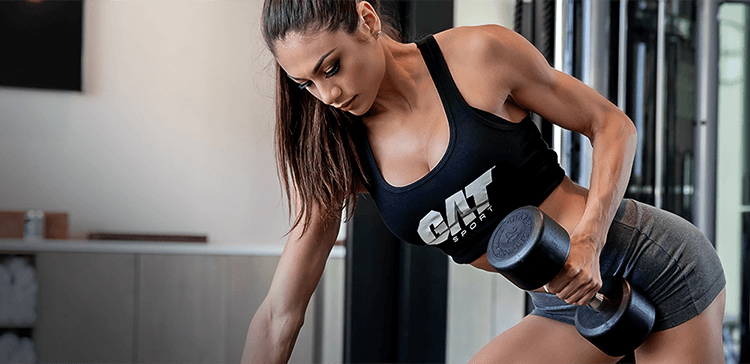 UNIQUE PROPERTIES OF SOME KEY COMPOUNDS IN NITRAFLEX:
1 Scoop Potency

Clinically Tested CFB

High Citrulline: Arginine Ratio

Creatine Free
CAN ALSO BE USED FOR PEFORMANCE & ENERGY FOR SPORTS*:




Serving Size: 10 fl. oz. (295.74 mL)

Servings Per Container:

12

Amount Per Serving

% DV

Calories

10

      

Carbohydrate

2 g

1%

Niacin (as Niacin)

75 mg

375%

Sodium

25 mg

1%

NITRAFLEX® PROPRIECEUTICAL BLEND

6,925 mg

**

Vasoactive Arginase-Regulating No Precursor Complex

      

Citrulline Malate, L-Arginine Malate, L-Arginine, Alpha-Ketoglutarate

Acute Energy, Focus, Intensity, Neuromodulating, Endurance Complex

      

Beta-Alanine (as Carnosyn®), Caffeine, N-Acetyl-L-tyrosine

Clinically-Studied Testosterone-Enhancing Complex

      

Calcium Fructopyranose Borate (CFB) FruiteX-B® US Patent #5,962,049

** Daily Value not established

Other Ingredients:

Water

, Natural and Artificial Flavors

, Potassium Sorbate

, Malic Acid

, Sodium Benzoate

, Sucralose

, Acesulfame-K
Directions For NITRAFLEX Pre-workout:
Powder:
Training days: Day 1: Begin by assessing your tolerance with half a serving of NITRAFLEX™ mixed with 6oz of cold water. Days 2 and beyond: Depending on tolerance, mix 1 serving (1 scoop) of NITRAFLEX™ with 10oz of cold water and consume within 30 minutes before working out.

Non-training days: Take 1 serving (1 scoop) upon arising in the morning or before any physical activity. Do not take more than 1 serving in a single 24-hour period. Do not take within five hours of bedtime.
RTD:
Consume one 10 fl oz bottle of NITRAFLEX® within 20-30 minutes prior to working out. DO NOT CONSUME with any other products containing CAFFEINE with this product.
Warnings:
WARNING: This product is strictly intended for use by healthy persons 18 years of age or older. Each serving (1 scoop) contains 325 mg of caffeine. Do not combine with other caffeine- or stimulant-containing products. Do not use if you are pregnant, nursing or trying to become pregnant. Do not use if you are currently unaware of your health status or if you have a medical condition including but not limited to heart, liver, kidney, or thyroid disease, psychiatric or epileptic disorders, high or low blood pressure, cardiac arrhythmia, recurrent headaches, enlarged prostate or glaucoma. Do not use if you are taking prescription or non-prescription medication of any kind including but not limited to MAO inhibitors, anti-depressants, aspirin or non-steroidal anti-inflammatory dtugs. Do not use if you are prone to overheating or dehydration. After 8 weeks of use, take 1 week off before resuming use. Discontinue at least 2 weeks prior to surgery or if you experience rapid heartbeat, dizziness, severe headache or shortness of breath. This product contains a chemical known to the state of California to cause birth defects or other reproductive harm. KEEP OUT OF THE REACH OF CHILDREN.
WARNING: DO NOT TAKE MORE THAN 1 SCOOP PER SERVING, DO NOT EXCEED RECOMMENDED DAILY DOSAGE
Payment & Security
Your payment information is processed securely. We do not store credit card details nor have access to your credit card information.