Description

NATURALLY GREAT
TASTING PROTEIN

PERFORMANCE INSPIRED
PLANT-BASED PROTEIN
Our Plant-Based Protein is loaded with 1B probiotics to help with your digestive health.* It also contains 200mg of tart cherry, 20g of multi-plant source protein and 5g of filling fiber with soothing, digestive enzymes. We use clean, natural ingredients, with ZERO sugar alcohols and no soy. Best of all, it is both lactose and gluten free, so it can benefit even the most sensitive digestive systems.





Our Plant-Based Protein exceeds the highest demands of today's vegetarian and active-lifestyle customers with the most diverse nutritional needs.
As with all of Performance Inspired's supplements, this protein is natural with a clean taste profile you will love! We put our names on the front because we are proud to stand behind our products!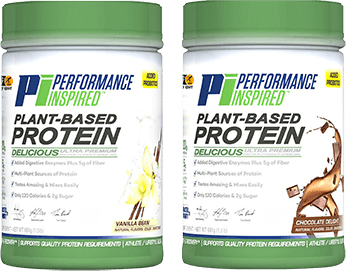 Payment & Security
Your payment information is processed securely. We do not store credit card details nor have access to your credit card information.