Description
TRUE-PERFORMANCE PRE-WORKOUT
STRENGTH*
ENERGY*
ENDURANCE*
MIND*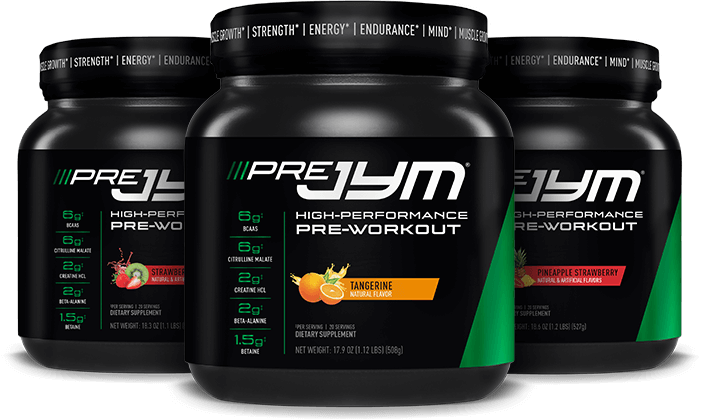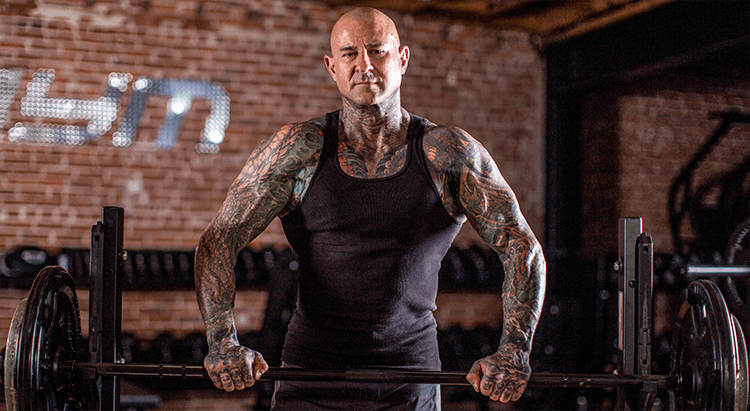 PRE JYM™
CHANGED
THE SUPPLEMENT INDUSTRY
Upon introduction in 2013, Pre JYM ushered in an era of transparency and became known as the world's first high-performance Pre-Workout supplement. Pre JYM was designed by renowned exercise and nutrition scientist Dr. Jim Stoppani to allow dedicated athletes to unlock the critical elements to fitness success: motivation, performance, transformation, and growth.*
13 HAND-PICKED INGREDIENTS
Pre JYM includes 13 ingredients that complement one another to prime the body for intense workouts, making it a complete pre-workout supplement. When it comes to supplement formulation, it is important to understand how synergies work. Certain ingredients work well when combined with other ingredients. This is where many supplement companies fall down. with PRE JYM, I personally selected these 13 quality ingredients that have fueled my workouts and those whom have applied my advice for years. As a scientist and bodybuilder, I understand how to combine both science and real use to attain real results.
NO PROPRIETARY BLENDS
Look at the Supplement Facts panel of your current pre-workout product and you'll likely see "PROPRIETARY BLEND," "PUMP MATRIX," "PERFORMANCE BLEND," or other catchy name in lieu of listing all ingredients and precise doses of each. Some supplement companies want you to think this means they've created a special concoction that magically delivers unique results. Because this blend is so amazing, they have to keep the amounts of each ingredient secret so that no other company steals the formula.
Truth is, proprietary blends typically serve a different purpose: They allow companies to hide how little of each ingredient they've actually put in the product. These ingredients are often cheap, ineffective, under-dosed, or all of the above. Pre JYM doesn't use proprietary blends – never has, never will. All 13 ingredients with exact doses that are clearly listed on the label. You deserve to know exactly what ingredients, and how much of each, are in the product you buy. Proprietary blends serve the purpose of hiding what's in the product, plain and simple.

ENERGY*
FOCUS*

STAMINA*
PERFORMANCE*
Get stronger in the gym and train harder and longer. Pre JYM will help you do it with ingredients that promote ENERGY, FOCUS, AND STAMINA. Set PR's in all areas with Pre JYM as your high-performance training fuel.*
GROWTH*
Gaining muscle helps support all goals – strength, physique, weight loss, and overall health and wellness. Pre JYM will spearhead your growth efforts with nutrients, not stimulants, that ignite protein synthesis to help you build more lean muscle.*
NUTRIENTS VS. STIMULANTS
Your pre-workout should contain real nutrients that deliver real results, not various stimulants that do nothing more than get you temporarily "amped up." The Pre JYM formula is based on amino acids (the building blocks of protein) that fuel your muscles and provide "clean energy." The only stimulant in Pre JYM is caffeine, selected for its performance-enhancing benefits, not simply to give you a jolt. Pre JYM changed an entire sports nutrition category when it launched in 2013. Before then, pre-workouts were loaded with stimulants you couldn't pronounce that gave you the jitters and little else. Stimulants provide a temporary boost. Nutrients, on the other hand, are the foundation for real gains in strength, muscle-building, endurance, and overall performance. Pre JYM was the first ever TRUE PERFORMANCE pre-workout, and years after changing the industry, it's still the product smart consumers choose to fuel their muscles, and their goals, with actual nutrients.*
NO BS, JUST SCIENCE
I've been studying nutrition and supplement science both in the lab and in the gym for decades. I've done the research, and I've converted it into real results for millions of real people just like yourself. I began educating hard-training men and women worldwide through the pages of Muscle & Fitness, FLEX, and Muscle & Fitness Hers magazines before finding a home for my programs, articles, and videos here on Bodybuilding.com, as well as my own website JimStoppani.com. I developed Pre JYM back in 2013 to take the results to the next level and provide myself and anyone else training hard in the gym the ability to access, in one bottle, the best supplement ingredients to help build lean muscle, torch body fat, improve strength, and boost performance.*




What's in JYM Supplement Science Pre JYM Pre Workout Powder
20 Servings

Grape Candy

Serving Size: 1 Scoop (25g)

Servings Per Container: About 20

Amount Per Serving

% Daily Value

Calories

70

      

Sodium

100 mg

4%

Total Carbohydrate

1 g

<1%**

Total Sugars

0 g

†

Includes 0g Added Sugars

0%

Calcium

49 mg

4%

Potassium

36 mg

1%

Creatine HCI (as CON-CRET®)

2 g

†

Beta-Alanine

2 g

†

Betaine (Trimethylglycine)

1.5 g

†

Taurine

1 g

†

N-Acetyl L-Cysteine

600 mg

†

Alpha-Glyceryl Phosphoryl Choline (as AlphaSize®)

150 mg

†

Citrulline Malate

6 g

†

Beet (Beta vulagris) Root Extract

500 mg

†

L-Leucine

3 g

†

L-Isoleucine

1.5 g

†

L-Valine

1.5 g

†

L-Tyrosine

1.5 g

†

Caffeine Anhydrous

300 mg

†

Huperzine A [from Toothed Clubmoss (Huperzia serrata) Aerial Parts Extract]

50 mcg

†

Black Pepper (Piper nigrum) Fruit Extract (as BioPerine®)

5 mg

†

** The % Daily Value tells you how much a nutrient in a serving of food contributes to a daily diet. 2,000 calories a day is used for general nutrition advice.

† Daily Value not established

OTHER INGREDIENTS:

Natural Flavor

, Sodium Citrate

, Fruit and Vegetable Juice (Color)

, Calcium Silicate

, Sucralose

, Acesulfame Potassium

, Dextrose.

Produced on shared equipment that also produces products that may contain EGG, MILK, SOY, TREE NUTS, and WHEAT.
Directions For Pre JYM Pre Workout Powder:
As a dietary supplement, mix 1 scoop of Pre JYM™ in 16-24 oz. of water and drink 30-45 minutes before workouts. Initially use 1/2 serving or less to assess tolerance. Once tolerance is assessed, take no more than 1 serving. To avoid sleeplessness, do not consume within 6 hours of bedtime.
For better results, consider using Post JYM Recovery Matrix™ after workouts.
Warnings: DO NOT USE IF YOU ARE UNDER THE AGE OF 18, PREGNANT OR NURSING, HAVE ANY KNOWN OR SUSPECTED MEDICAL CONDITIONS, ARE TAKING ANY PRESCRIPTION OR OVER THE COUNTER MEDICATIONS, OR SENSITIVE TO CAFFEINE. Consult with a qualified healthcare professional before using this or any other dietary supplement. Contains 300mg of caffeine per serving, the equivalent of approximately 3 cups of coffee. DO NOT USE WITH ANY OTHER CAFFEINATED PRODUCT. Too much caffeine may cause nervousness, irritability, sleeplessness and/or rapid heartbeat. Immediately discontinue use and consult your doctor if any adverse reactions occur.
KEEP OUT OF REACH OF CHILDREN.
Store at 15-30°C (59-86°F). Protect from heat, light and moisture. Do not use if seal is broken.
Payment & Security
Your payment information is processed securely. We do not store credit card details nor have access to your credit card information.