Description

PROTEIN POWDER
NON-GMO
 

&

 

NATURAL INGREDIENTS
MADE WITH

REAL RAW CACAO & VANILLA BEAN

GLUTEN
FREE

USE AT
ANYTIME

REBUILD
MUSCLES
FUEL LIKE A PRO

Ultra-filtered, ion exchanged, non-denatured whey protein concentrate, isolate, and hydrolyzed whey protein for maximum nutrition*

Increase stamina, recover faster, develop explosive power, build and maintain a stronger physique, and overall feel better*

Gluten-free and absolutely delicious, this protein is perfect for athletes training their bodies to be the best*
FAMILY FIRST
At Ryno Power we are committed to using the highest quality, safest, and most natural ingredients. We offer performance products that you can trust, use every day, and feel comfortable giving to your children and family members. We have all the best ingredients you need to compete at the highest level.*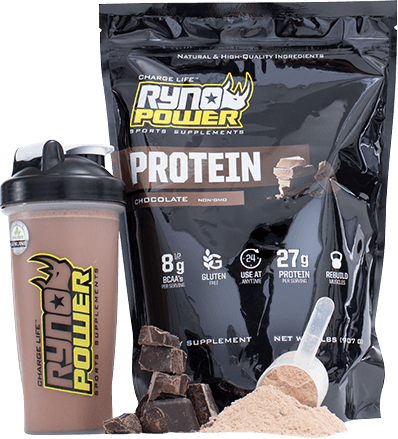 Ryno Power Protein not only contains high-quality protein but also a recovery complex of BCAA's. These naturally occuring amino acids are critical to the growth of a healthy body and may contribute to faster recovery.*
GLUTEN
FREE
Ryno Power is committed to the highest-quality ingredients available. All of our products have no additives, fillers, or oils. Our protein includes real raw cacao and vanilla bean, and is sweetened with natural cane juice and Stevia.
Ryno Power's proprietary three protein blend is made with the highest-quality protein available. It digests fast and is easy on the stomach so you get more nutrients for maximum recovery!*

REBUILD
MUSCLES
Protein before, during, or after workouts is an effective way to grow and maintain muscle mass. Promote health, satiate hunger, and develop the physique you want with the highest-quality protein around.*
WHEN TO USE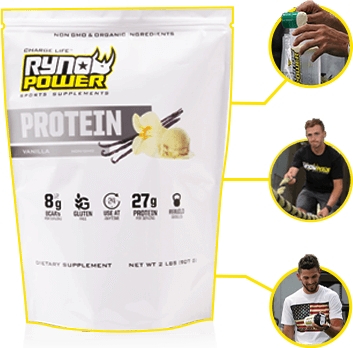 BEFORE
Take 1-2 scoops as a smoothie or stand-alone drink for a nutritious start to your day.
DURING
Take 1-2 scoops with liquid. Good for fueling during activity to provide quality nutrition.
AFTER
Take 2 scoops in liquid. With high-quality protein, BCAA's, and delicious raw cacao or vanilla bean taste, it is the ultimate recovery shake.
ABOUT RYNO POWER
Founded by Ryan McCarthy and Ryan Hughes, Ryno Power's mission is to provide elite-quality supplements to everyone from action sports athletes to those looking to lead a healthy lifestyle. All products are designed with high-quality, gluten-free, and performance-tested ingredients, with all athletes in mind as we develop the fuel your body will use and how it will affect your performance.
These products have been designed, tested, and proven by champions. CHARGE LIFE with us!
What's in Ryno Power Premium Whey Protein
Serving Size 2 Scoops (45 g)

Servings Per Container

20

Calories

180

      

Calories from Fat

18

      

Amount Per Serving

%DV *

Total Fat

2 g

1%

Saturated Fat

1 g

      

Trans Fat

0 g

      

Cholesterol

0 g

0%

Total Carbohydrate

10 g

3%

Sugars

5 g

      

Protein

27 g

54%

Sodium

144 mg

6%

* Percent Daily Values are based on a 2,000 calorie diet

Ingredients:

RP Proprietary Blend of (Instantized Whey Protein Concentrate

, Whey Protein Isolate

, Hydrolized Whey Protein Isolate)

, NON-GMO Gluten-Free RP Carbo-Fuel® (Glucose Polymers extracted from corn)

, Organic Evaporated Cane Juice

, Non-GMO Natural Flavors

, Non-GMO Organic Raw Cacao Powder

, L-Leucine

, L-Isoleucine

, L-Valine

, Himalayan Pink Salt

, Stevia

ALLERGY WARNING: CONTAINS MILK AND SOY PRODUCTS
Directions For Premium Whey Protein: Take TWO (2) scoops of Vanilla Protein SUGGESTED USE: with 8-14 oz of water or milk and shake until blended. Drink multiple servings per day as meals and for recovery.
Warnings: WARNING: KEEP OUT OF REACH OF CHILDREN. This product is packed by weight and not STORAGE INSTRUCTIONS: volume. Some settling may have occurred during transportation. Store at a controlled room temperature of 15-30º C/59-86º F. Protect from heat, light and moisture.
Payment & Security
Your payment information is processed securely. We do not store credit card details nor have access to your credit card information.