Description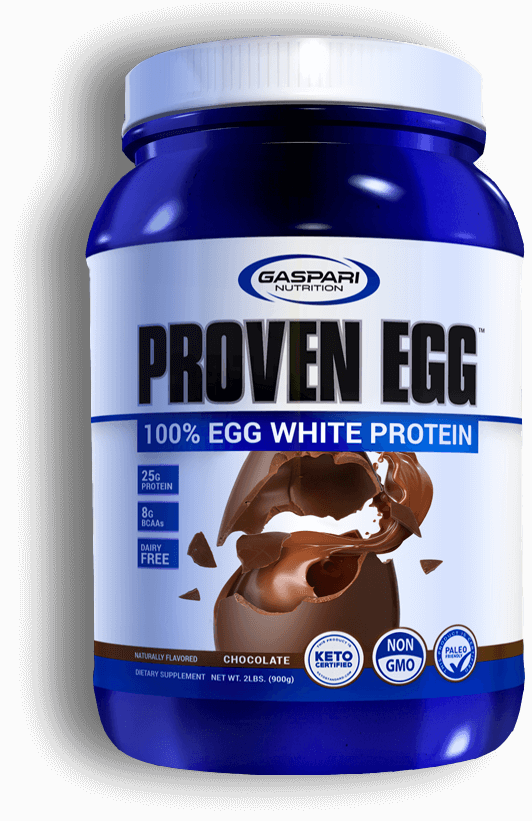 All-natural, 100% Proven® Egg White Protein from Gaspari Nutrition is finally here! Nature's PROVEN most efficient muscle building protein comes packed with 25g of the highest quality protein, 0g fat, and loaded with 8g of BCAAs per serving.
25 Grams of protein per serving
ZERO Artificial flavors, colors and sweeteners
6 Large Egg Whites of protein per serving
Loaded with 8 grams of BCAAs per serving
Hormone and Antibiotic Free
Nature's Most Complete Protein Source
Dairy & Lactose Free
Instantized (Suitable for Cooking)



EGG PROTEIN IS THE MOST COMPLETE PROTEIN WHEN COMPARED TO ALL OTHER ANIMAL & PLANT-BASED SOURCES.*
To build a muscular physique you must consume sufficient doses of high-quality protein on a daily basis. Unfortunately, getting enough high-quality protein from our diet can be a challenge for most of us. With so many protein supplements on the market, it is difficult to choose the best option. Gaspari's Proven® 100% Egg White Protein is clinically the purest protein source when considering its essential amino acid composition, digestibility and bioavailability of amino acids. There are several measurement scales and techniques that are used to evaluate the quality of protein, and egg protein is rated number one in all rating scales.
Data proves that egg protein is over 21% more efficient than whey when it comes to building lean muscle mass. If you are looking for nature's best protein source to build a quality physique , look no further than Gaspari Nutrition's Proven® 100% Egg White Protein.
21%
MORE EFFICIENT THAN WHEY PROTEIN IN BUILDING LEAN MUSCLE*

0
HORMONES, ANTIBIOTICS, DAIRY & LACTOSE
0
ARTIFICIAL FLAVORS, COLORS & SWEETENERS
Payment & Security
Your payment information is processed securely. We do not store credit card details nor have access to your credit card information.