Description

PX PRO XANTHINE
THE ORIGINAL SUPER THERMOGENIC
FOR MEN & WOMEN!*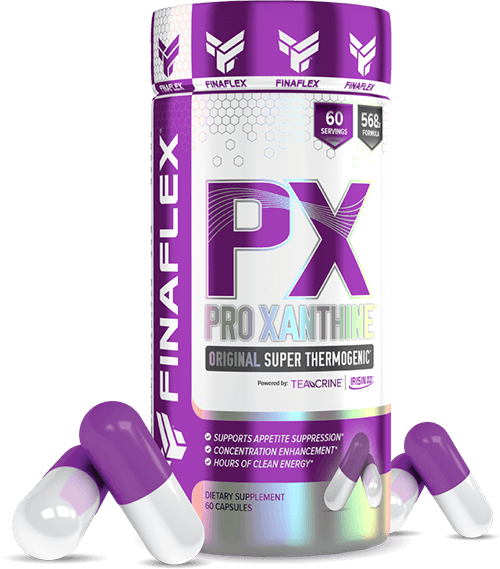 SUPPORTS APPETITE SUPPRESSION*
CONCENTRATION ENHANCEMENT*
HOURS OF CLEAN ENERGY*
EFFECTIVE WEIGHT MANAGEMENT*
PX, PRO XANTHINE
INTRODUCING PX PRO XANTHINE
FINAFLEX PX, PRO XANTHINE is the Next Generation in Weight Loss Supplementation. PX contains the highest quality and most exotic Patent Pending stimulants and fat loss ingredients available.* One pill provides the Energy, Focus, and Appetite Suppression needed to get you through the day.*
EXCLUSIVE FORMULA
The PX formula has remained virtually unchanged for over 4 years! The unique PX formulation contains an exclusive combination of proprietary ingredients that delivers a super-powered thermogenic energy matrix like no other product on the market!* Built with IRISINXD, a combination of ingredients only found in FINAFLEX formulas is what makes PX so special!*
WEIGHT MANAGEMENT*
Let's face it, losing weight isn't easy. It takes dedication, focus, and an unrelenting desire to change your situation.* PX helps you on your weight loss journey by providing increased energy to power through the day, real appetite suppression that helps you feel fuller, and concentration enhancers that keep you focused on your goals!*
HOW DOES PX PRO XANTHINE WORK IN THE BODY?
THERMO­GENESIS*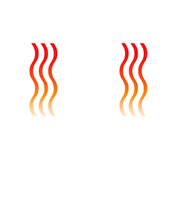 BURNS FAT*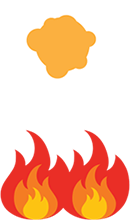 SUPPORT WEIGHT LOSS*
60 Capsules

Serving Size 1 Capsule

Servings Per Container

60

Amount Per Serving

%DV†

Antioxidant Energy Matrix

453

mg

**

Caffeine, IrisinXD®1 [Green Tea Leaf Extract (Camellia sinensis) (Std. min. 60% EGCG), Cocoa (Theobroma cacao) Seed Extract], Blueberry Powder, Theobromine, Theacrine (as TeaCrine®2), Rauwolfia vomitoria Extract (Root Bark)

Mood Support

115

mg

**

L-Phenylalanine, Schisandra chinensis Extract (Berry), AMATEA™3 Guayusa Extract (Ilex guayusa) (leaf), Huperzia serrata Extract (Club Moss)

† Percent Daily Values are based on a 2,000 calorie diet

** Daily Value (DV) not Established

Other Ingredients:

Capsule (Gelatin

, Titanium Dioxide

, FD&C Red #3

, FD&C Blue #1)

, Microcrystalline Cellulose

, Magnesium Stearate

, Silica

1 IrisinXD® is a registered trademark of Finaflex.

2 TeaCrine® is a registered trademark and protected by Patents Pending, Serial No. 61/903,362; under exclusive global distribution by Compound Solutions, Inc.

3 AMATEA™ Guayusa Extract is a registered trademark of Applied Food Sciences, Inc
Directions For PX Pro Xanthine: As a dietary supplement take 1 serving (1 capsule) of PX1-2 times daily. Take 1st serving of PXimmediately upon waking. Take 2nd serving 6 hours later. Do not consume more than 2 servings daily.
Warnings: WARNING: KEEP OUT OF REACH OF CHILDREN. DO NOT USE IF PREGNANT OR NURSING.Consult your doctor or other medical authority prior to using this product if you have any medical condition, have a family history of medical conditions, or if you are currently taking any other medicines or dietary supplements. This product is intended for use by healthy adults over 18 years old. Do not exceed recommended dosage. Stop using immediately if you experience any adverse symptoms or reactions. Do not use for more than 8 weeks consecutively. Discontinue 2 weeks prior to surgery. This product contains caffeine. Do not use with other products that contain caffeine or stimulants. If you are subject to drug testing contact your drug testing organization before use. Do not combine with alcohol. Ingredients in this product may cause a harmless tingling or flushing sensation. Consumer assumes all liability if product is used inconsistent with label guidelines. Sold by total capsule count not volume. See bottom of bottle for Lot Number and Expiration Date. Contains 200mg Caffeine per Serving.PHENYLKETONURICS: CONTAINS PHENYLALANINE.
Payment & Security
Your payment information is processed securely. We do not store credit card details nor have access to your credit card information.