Description

OUR MOST
ADVANCED
FAT BURNER!*
SINETROL® Fat-Shredding Technology®
Scientifically Shown to Help Reduce Abdominal Fat!*
Backed by Human Studies!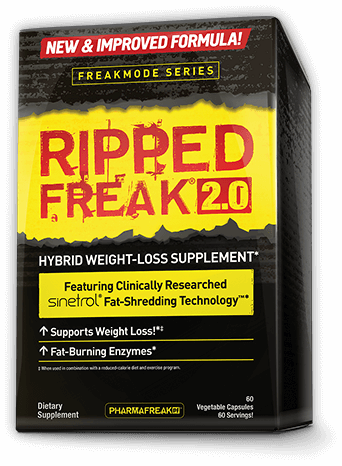 WHAT IT IS
RIPPED FREAK® 2.0 is a clinically backed fat-shredding supplement! RIPPED FREAK® 2.0's cutting-edge formula features the clinically studied ingredient complex SINETROL®, which was developed by the French company FYTEXIA and is shown to increase fat loss through a unique mechanism of action. In addition, studies show that SINETROL® can support abdominal fat loss!*
HOW IT WORKS
The unique combination of ingredients found in RIPPED FREAK® 2.0 support fat loss through multiple mechanisms of actions:
SINETROL® facilitates lipolysis through the inhibition of phosphodiesterase-4 (PDE), the enzyme that catalyzes the hydrolysis (breakdown) of cyclic adenosine monophosphate (cAMP). Higher levels of cAMP can result in an increased rate of fat breakdown and fat loss.*
Studies show that grains of paradise (Aframomum melegueta) can increase whole-body energy expenditure through activation of brown adipose tissue (BAT).*
Caffeine can increase resting energy expenditure and thermogenesis through adenosine receptor blockade and inhibition of phosphodiesterase (PDE), which is why caffeine is synergistic with SINETROL®.*
The complete vitamin B complex provides key co-factors in many metabolic and fat-burning pathways.*
WHY IT'S BETTER
SINETROL® Fat-Shredding Technology® supports fat loss through a unique mechanism of action and is backed by three human clinical studies!
Serving Size 1 Vegetable Capsule

Servings Per Container

60

Amount per Serving

% Daily Value

Thiamine (as Thiamine hydrochloride)

.375 mg

31%

Riboflavin

.425 mg

33%

Niacin (as Niacinamide)

5 mg

31%

Vitamin B6 (as Pyridoxine hydrochloride)

.5 mg

29%

Folate (100 mcg Folic Acid)

166.66 mcg

42%

Vitamin B12 (as Methylcobalamin)

1.5 mcg

63%

Biotin

75 mcg

250%

Pantothenic Acid (as Calcium D-pantothenate)

2.5 mg

50%

SINETROL® Fat-Shredding Technology®

450 mg

      

Grapefruit˙ (Citrus paradisi, Fruit peel)

∆

Guarana° (Paullinia cupana, Seed)

∆

Sweet Orange (Citrus sinensis, Fruit peel)

∆

Blood Orange (Citrus sinensis, Fruit peel)

∆

Caffeine (1,3,7-Trimethylxanthine)

189 mg

∆

Grains of Paradise/Guinea Grains (Aframomum melegueta, Seed)

40 mg

∆

∆ Daily Values not established.

Other Ingredients:

Hypromellose Capsule Shell

, Dicalcium Phosphate

, Magnesium Stearate

, Silica.
Directions For RIPPED FREAK 2.0: As a dietary supplement, adults take 1 capsule of RIPPED FREAK® 2.0, twice daily (e.g., take 1 capsule with breakfast and 1 capsule with lunch). Drink at least ten 8-ounce glasses of water daily. For maximum results, combine RIPPED FREAK® 2.0 with a healthy diet and exercise program.
Warnings: KEEP OUT OF REACH OF CHILDREN. DO NOT EXCEED 2 CAPSULES IN A 24-HOUR PERIOD AND DO NOT TAKE WITHIN 6 HOURS BEFORE BEDTIME. Not for use by those who are sensitive to stimulants, such as caffeine. Use at your own risk. Consult a physician before using this product if you have a medical condition, if you require surgery, or if you are taking prescription or overthe-counter medication. Not intended for persons under 18 years of age. Do not use if you are pregnant or nursing. One serving of this product (1 capsule) contains about as much caffeine as two 8-ounce cups of coffee and should not be taken by individuals wishing to eliminate caffeine from their diet. Do not use with caffeine-containing medications, foods or beverages, because too much caffeine may cause nervousness, irritability, sleeplessness and, occasionally, rapid heartbeat. Do not use if the inner safety seal on this package has been broken. Store in a cool, dry place.
Payment & Security
Your payment information is processed securely. We do not store credit card details nor have access to your credit card information.