Description
STACKED
PROTEIN
GAINER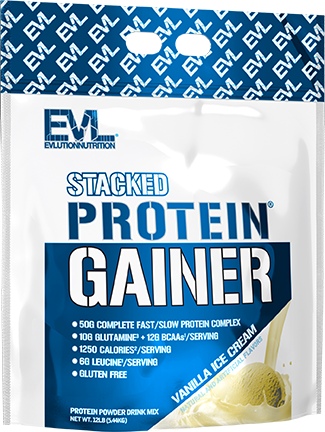 COMPLETE
MUSCLE
GAINER
10G
GLUTAMINE
*NATURALLY OCCURING & ADDED
12G
BCAAS
*NATURALLY OCCURING
STACKED PROTEIN GAINER SERVING STATS:
50g extended release fast and slow protein matrix
10g glutamine and glutamine peptides
26g of naturally occurring EAAs
12g of BCAAs to support muscle growth*
6g of leucine to limit muscle breakdown*
Best in class ingredients and manufacturing
1250 calories per serving
Gluten free
WHEN COMBINED WITH REGULAR TRAINING, STACKED PROTEIN GAINER IS ENGINEERED TO SUPPORT:
Muscle growth*
Muscle recovery*
Prolonged protein synthesis*
Improved muscle strength*
SETTING A NEW STANDARD IN TASTE
Superior quality now comes with superior taste! Our flavor experts ensured you'll enjoy STACKED PROTEIN® GAINER'S taste as much as your results.
VANILLA ICE
CREAM
DOUBLE RICH
CHOCOLATE
BETTER INGREDIENTS = BETTER RESULTS
Complete muscle fuel day or night*
Ultra-filtered pure protein sources
Made in an NSF, GMP certified manufacturing plant
Aminogen + Lactase digestive enzyme blend
No amino spiking - all protein from complete dairy protein source
WHO?
Fitness enthusiasts and athletes, even those on gluten-free diets, use STACKED PROTEIN® GAINER to fuel their toughest workouts and boost recovery.*
WHAT?
50g of the highest quality fast, medium and slow release protein from 5 sources providing 10g of Glutamine, and 12g of BCAA per serving are found in STACKED PROTEIN® GAINER.
WHEN?
Anytime! Use STACKED PROTEIN® GAINER before workouts or as a recovery boost anytime.*
WHY TAKE IT?
STACKED PROTEIN® GAINER combines the highest quality protein available with the highest quality carbohydrates to help build muscle.
Payment & Security
Your payment information is processed securely. We do not store credit card details nor have access to your credit card information.