Description

TOTAL
MASS
PREMIER WEIGHT GAINER DRINK MIX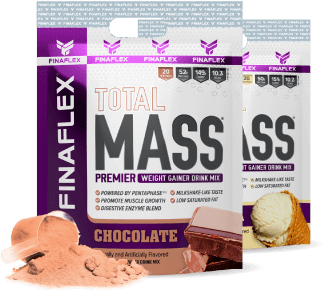 TOTAL MASS
INTRODUCING TOTAL MASS
FINAFLEX TOTAL MASS is a Premier Weight Gainer Drink Mix designed for individuals desiring to gain weight and build and maintain muscle mass. TOTAL MASS® is exclusively formulated with PentaPhase® Protein Technology, delivering 52 grams of 5 different time-released, instantized proteins that break down in the body over 5 distinct phases, in 5 hours, ensuring maximum absorption by the body. Delivering protein to muscles is essential for gains!*
PREMIER WEIGHT GAINER
TOTAL MASS is built with the highest quality protein available today, separating itself from other weight gainers that contain low quality ingredients and high levels of saturated fat and sugar. TOTAL MASS is packed with 52g of PentaPhase Protein and 149g of carbs with just 9g of sugar per serving! In order to help ease digestion TOTAL MASS features an exclusive Probiotic and Digestive Enzyme Blend (PDE) that also increase macro nutrient absorption, help you pack on MASS.
PENTAPHASE
FINAFLEX TOTAL MASS is exclusively formulated with PentaPhase Protein Technology. PentaPhase boasts a unique blend of 5 different time-released, instantized proteins that break down in the body over 5 distinct phases, in 5 hours! PentaPhase creates an environment in the body that is primed for muscle growth and recovery. The time-released break down of these proteins allow for muscles to utilize (assimilate) protein more efficiently and effectively, maximizing the absorption of the amino acids into muscles.
Payment & Security
Your payment information is processed securely. We do not store credit card details nor have access to your credit card information.