Description
PRODUCT OVERVIEW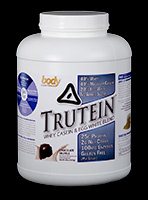 25g Protein, 5.5g BCAAs & 5g Glutamine Precursors (Vanilla)*


To fuel new muscle synthesis*

100mg Trusorb Amino Acid Utilization Enzyme Module


To increase amino acid uptake*

2.5g Prebiotic Fiber Blend


To promote digestive health and satiety*

75mg Omega-3s & 20mg Nucleotide Recovery Module*
No Added Sugar & No Added Sodium


Only 2.5g Net Carbs & 50mg Sodium (Less Than 2% Recommended Sodium Intake)
* Please Note: Chocolate flavors contain 23g Protein, 5g BCAAs & 4.6g Glutamine Precursors
---
Proprietary Blends Hide Important Ingredient Imbalances
Trutein Fully Discloses Its Premium Protein Blend
While other protein powders on the market contain whey, casein & egg white, Trutein is unique because we do not hide the protein proportions within a proprietary blend. There's a good reason why proprietary blends are so common in proteins: whey can be half the cost of the other types of proteins. Therefore, when you purchase product with a proprietary protein blend, you're most likely receiving 99% of the cheapest ingredients and 1% of the expensive ingredients. This defeats the whole purpose of using the triple-protein combination of whey, micellar casein and egg white for their sustained-release properties.
At Body Nutrition, on the other hand, we understand that you 'the consumer' are the most important part of our business and we believe that you deserve to know exactly what you're buying. That's why we fully disclose Trutein's protein proportions and why we refuse to hide anything in a proprietary blend.
---
Taste: Keeps You Coming Back For More
One of the most important aspects of any protein is its taste. Most of us make a protein shake at least 2-3 times per day, 365 days per year, so it had better taste great. We're confident that Trutein is something you'll look forward to drinking and something that you'll enjoy with each sip. In fact, we've been told by many customers that they consider Trutein to be their reward at the end of their grueling workouts.
---
Total-Body Peptide Saturation with Three Protein Forms
Isolates are Trutein's Primary Sources
Trutein contains three different forms of protein: whey, micellar casein and egg white. The benefits of supplementing with this triple combination are their very different rates of absorption, lasting between 30 minutes to over 7 hours.* Taken together, this means that Trutein promotes stabilized total-body amino acid saturation to fuel new muscle synthesis.*
Trutein predominantly uses the "isolate" forms of whey and micellar casein (from milk protein isolate) as opposed to the "concentrate" forms, which are less pure with more fat, lactose and cholesterol. Our proteins are also processed using a nonthermal, cross-flow nanofiltration system to give the cleanest possible product while retaining the naturally-occurring bioactive peptides, including alpha-lactalbumin and glycomacropeptides.
---
Thank you for your interest in Trutein! We know you'll enjoy it as much as Body Nutrition enjoyed creating it!
4 Lbs.

Lemon Meringue Pie

Serving Size 1 Level Scoop (34g)

Servings Per Container

53

Amount Per Serving

% Daily Value

Calories

120

      

Calories from Fat

10

      

Total Fat

1 g

2%*

Saturated Fat

.5 g

3%*

Cholesterol

20 mg

7%*

Total Carbohydrate

5 g

2%*

Dietary Fiber

2.5 g

10%*

Sugars

1 g

      

Protein

24 g

48%*

Calcium

220 mg

22%

Iron

1.4 mg

7%

Sodium

140 mg

6%

Potassium

80 mg

2%

NONPROPRIETARY PROTEIN BLEND

24

mg

**

45% Whey, 45% Micellar Casein, 10% Egg White

DIGESTIVE ENZYMES

100

mg

**

Peptidase Proteolytic Enzymes

* Percent Daily Values are based on a 2,000 calorie diet.

** Percent Daily Values are not established.

Ingredients:

Trutein® Protein Blend (Pure Undenatured & Nonthermally-Processed Milk Protein Isolate

, Cross-Flow Nanofiltered Whey Protein Isolate

, Ultrafiltered Whey Protein Concentrate

, Egg Albumen)

, TruFiber™ Inulin

, Natural & Artificial Flavors

, Citric Acid

, Malic Acid

, Fructose

, Xanthan Gum

, Cellulose Gum

, Guar Gum

, Salt

, Protease Enzymes

, Lemon Oil

, Lemon Juice

, Ascorbic Acid

, Acesulfame Potassium

, Sucralose

, Soy Lecithin

, Yellow #5

ALLERGEN WARNING: Contains Milk, Egg & Soy Ingredients.
Directions For Trutein:
Mix 1 scoop Trutein with 8 ounces milk or cold water. Stir or shake for 15-20 seconds.
Payment & Security
Your payment information is processed securely. We do not store credit card details nor have access to your credit card information.