Description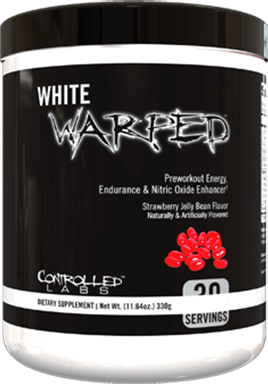 FAST ABSORBING AND FAST ACTING*
STRENGTH AND STAMINA*
MOOD AND FOCUS*
ENDURANCE AND EXTREME PUMPS*
NUTRIENT DELIVERY AND RECOVERY*
Introducing Controlled Lab's all new preworkout, WHITE WARPED™. White Warped™ is designed to help your performance in the gym through a variety of methods using only the latest and most cutting-edge supplement ingredients.
White warped includes Citrulline, Agmatine, Taurine, Tyrosine, Huperzine A, Caffeine (as anhydrous and dicaffeine malate), and Spectra™, a brand-new patented ingredient.
White Warped™ will help you train more efficiently and to the best of your ability.* When formulating this product, we looked at all angles: focus, energy, mood and well-being, pumps, and mostly importantly, performance. We went through the formula and one by one, the ingredients clicked, making a perfect and complete pre-workout.
White Warped™ is designed to increase your performance; whether it be in the gym during a weightlifting session, a cardio session, or just to give you a daily boost.* With such a multifaceted approach, we were able to come out with White Warped™: a premium product that can boast all of the above.*
White Warped™ contains 30 servings a tub. Choose the best, choose White Warped™.
Payment & Security
Your payment information is processed securely. We do not store credit card details nor have access to your credit card information.