Description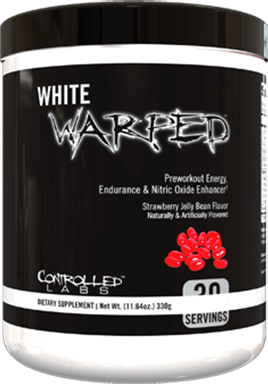 FAST ABSORBING AND FAST ACTING*
STRENGTH AND STAMINA*
MOOD AND FOCUS*
ENDURANCE AND EXTREME PUMPS*
NUTRIENT DELIVERY AND RECOVERY*
Introducing Controlled Lab's all new preworkout, WHITE WARPED™. White Warped™ is designed to help your performance in the gym through a variety of methods using only the latest and most cutting-edge supplement ingredients.
White warped includes Citrulline, Agmatine, Taurine, Tyrosine, Huperzine A, Caffeine (as anhydrous and dicaffeine malate), and Spectra™, a brand-new patented ingredient.
White Warped™ will help you train more efficiently and to the best of your ability.* When formulating this product, we looked at all angles: focus, energy, mood and well-being, pumps, and mostly importantly, performance. We went through the formula and one by one, the ingredients clicked, making a perfect and complete pre-workout.
White Warped™ is designed to increase your performance; whether it be in the gym during a weightlifting session, a cardio session, or just to give you a daily boost.* With such a multifaceted approach, we were able to come out with White Warped™: a premium product that can boast all of the above.*
White Warped™ contains 30 servings a tub. Choose the best, choose White Warped™.
Serving Size 1 Scoop (11 grams) (18cc scoop)

Servings Per Container

30

Amount Per Serving

%DV

L-Citrulline

3

g

**

L-Tyrosine

2

g

**

Taurine

1.5

g

**

Agmatine Sulfate

500

mg

**

Caffeine Anhydrous

250

mg

**

Di-Caffeine Malate

100

mg

**

Spectra™ Proprietary Blend

100

mg

**

Grape Seed Extract, Quercetin, Blueberry Fruit Extract, Resveratrol (from Japanese Knotweed Root Ext), Raspberry Fruit, Bilberry Fruit Extract, Sour Cherry Fruit, Dried Plum (Prune) Fruit, Strawberry Fruit, Cranberry Fruit

Huperzine-A (from Toothed Club Moss Aerial Part Extract)

100

mcg

**

** Daily Value not established.

Other Ingredients:

Pineapple Fruit Powder

, Citric Acid

, Natural and Artificial Flavors

, Silicon Dioxide

, Calcium Silicate

, Acesulfame Potassium

, Sucralose.

Allergen Warning: Manufactured on equipment which processes products containing milk, egg, wheat, soybeans, shellfish, fish oil, tree nuts, and peanuts.
Directions For White Warped:
Initial (first serving) Directions: To assess your individual tolerance to the supplement, combine 1/2 serving of WHITE WARPED™ with 4-5 oz. of cold water and consume it before your workout. Shake well before drinking. If you experience any unusual occurrence, stop and consult your doctor.
Directions for Regular Use: Combine 1 serving of WHITE WARPED™ with 8-10 oz. of cold water (you may adjust the amount of water used based on your particular flavor concentration desire) and consume it 30 minutes pre-workout. For best results, WHITE WARPED™ should be used in conjunction with other CONTROLLED LABS™ products, with adequate liquid/water per day, and a sensible diet.
Warnings: Do not exceed 1 serving per day. It is a normal characteristic for the product to mix a light pink color in water. Before ingesting this product you should consult your doctor if you are not aware of your current health status or if you have any medical condition including, but not limited to: diabetes, high or low blood pressure, cardiac arrhythmias, stroke; diseases of the heart, kidneys, liver or thyroid gland; anxiety, history of seizures, depression, any psychiatric ailment, pernicious anemia or other blood disorders, prostate enlargement. This product is intended for adults 18-50 years of age only. Do not take this product if you are pregnant or nursing. Do not consume with less than the recommended amount of water or if you are prone to dehydration or are subjected to extremely hot temperatures. Do not take this product without permission from your doctor. Do not take this product with ANY other stimulants or other sources of caffeine. Do not take this product with ANY drugs.
Keep out of the reach of children and pets.
Payment & Security
Your payment information is processed securely. We do not store credit card details nor have access to your credit card information.